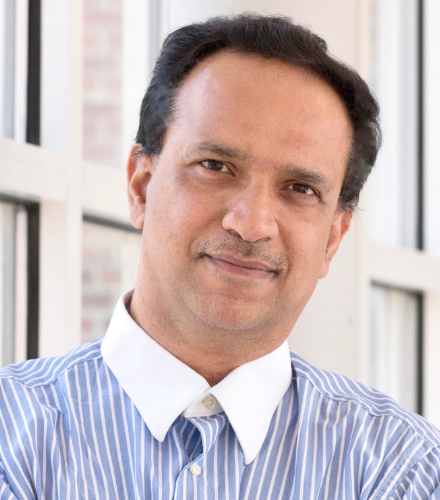 Manocha, Dinesh
Distinguished University Professor
Paul Chrisman Iribe Professor of Computer Science

Computer Science
UMIACS
Electrical and Computer Engineering
The Institute for Systems Research
Maryland Robotics Center
Brain and Behavior Institute

5164 Iribe Center

Dinesh Manocha is the Paul Chrisman Iribe Chair in Computer Science & Electrical and Computer Engineering and Distinguished University Professor at the University of Maryland College Park. He is also the Phi Delta Theta/Matthew Mason Distinguished Professor Emeritus of Computer Science at the University of North Carolina - Chapel Hill. He has won many awards, including Alfred P. Sloan Research Fellow, the NSF Career Award, the ONR Young Investigator Award, Google Faculty Awards,  Facebook Faculty Awards, Alibaba Innovation Awards, and the Hettleman Prize for scholarly achievement. His research interests include multi-agent simulation, virtual environments, artificial intelligence, and robotics. His group has developed a number of packages for multi-agent simulation, GPU computing, and physics-based simulation that have been used by hundreds of thousands of users and licensed to more than 60 commercial vendors. He has published more than 600 papers and supervised more than 40 PhD dissertations. He is an inventor of 10 patents, several of which have been licensed to industry. His work has been covered by the New York Times, NPR, Boston Globe, Washington Post, ZDNet, as well as DARPA Legacy Press Release. He is a Fellow of AAAI, AAAS, ACM, and IEEE, member of ACM SIGGRAPH Academy, and Bézier Award from Solid Modeling Association. He received the Distinguished Alumni Award from IIT Delhi and the Distinguished Career in Computer Science Award from Washington Academy of Sciences. He was a co-founder of Impulsonic, a developer of physics-based audio simulation technologies, which was acquired by Valve Inc in November 2016. See http://www.cs.umd.edu/~dm
Manocha received his Ph.D. in computer science from the University of California, Berkeley, in 1992. He received his B. Tech. in computer science and engineering from the Indian Institute of Technology in Delhi, India, in 1987. He also received the Distinguished Alumni Award from the Indian Institute of Technology in Delhi, India.
Honors and Awards 
University of Maryland Distinguished University Professor
Pierre Bézier Award
Fellow, Association for Computing Machinery (ACM)
Fellow, Institute of Electrical and Electronics Engineers
Fellow, American Association for the Advancement of Science
Fellow, Association for the Advancement of Artificial Intelligence
NSF CAREER Award
Office of Naval Research Young Investigator Award
Sloan Research Fellowship
IBM Fellowship
IGMOD IndySort Winner
Honda Research Award
UNC Hettleman Prize
Artificial intelligence (AI), robotics, graphics visualization, virtual reality, augmented reality, autonomous driving, high performance and scientific computing
His research group developed software packages for physically based modeling, computer-aided design and scientific computing, which have been downloaded by more than 200,000 users worldwide and licensed to more than 55 corporations, including Fortune 500 companies. He is also named as an inventor on nine patents, several of which have been licensed to industry.He also supervised more than 65 master's and doctoral students. Many of Manocha's 35 Ph.D. advisees are professors at top universities and group leaders in industry.
Along with two of his former Ph.D. students and Professor Ming Lin, who is now the Elizabeth Stevinson Iribe Chair of Computer Science at UMD, Manocha co-founded the 3D audio startup Impulsonic, which was acquired by Valve Software in 2016. Impulsonic's product provided the realistic sounds required for a user to feel truly immersed in a virtual world and is available as part of Steam Audio SDK. The sound technologies developed by the researchers have also been used to evaluate the acoustic effects of architectural buildings and to model noise in indoor and outdoor environments.
For another research project, Manocha uses virtual reality and simulation technologies to predict the movement of pedestrians and crowds. These technologies can be used to improve crowd safety and prevent disasters like the 2015 Hajj crowd disaster in Mecca, Saudi Arabia, where more than 2,200 pilgrims died. The multi-agent navigation technologies developed by Manocha's group have also been integrated into most computer gaming engines.
Working with Boeing, Manocha's research group modeled passenger behavior during the loading, unloading and evacuation of a commercial aircraft. This type of simulation allows the airlines to experiment with different boarding orders, seating arrangements and overhead layouts to reduce loading and unloading times—and ultimately demonstrate that the aircraft could be safely evacuated in less than 90 seconds, as required by U.S. federal law. This work, which has also been used to analyze crowd videos for surveillance and to estimate crowd sizes, garnered media attention during President Trump's inauguration.
More recently, Manocha and his students began developing new technologies to simulate the movement and behavior of autonomous vehicles in challenging traffic conditions, such as Beijing or Washington, D.C. The major goal of this work is to predict the navigation and safety capabilities of autonomous cars in crowded scenarios that contain other vehicles, pedestrians and bicycles. Manocha's group has been collaborating on this project with Intel Corp. and Baidu Inc.