UMD's Gamma Research Group wins Best Paper on Gait-Based Emotion Classification at ACM SIGGRAPH MIG Conference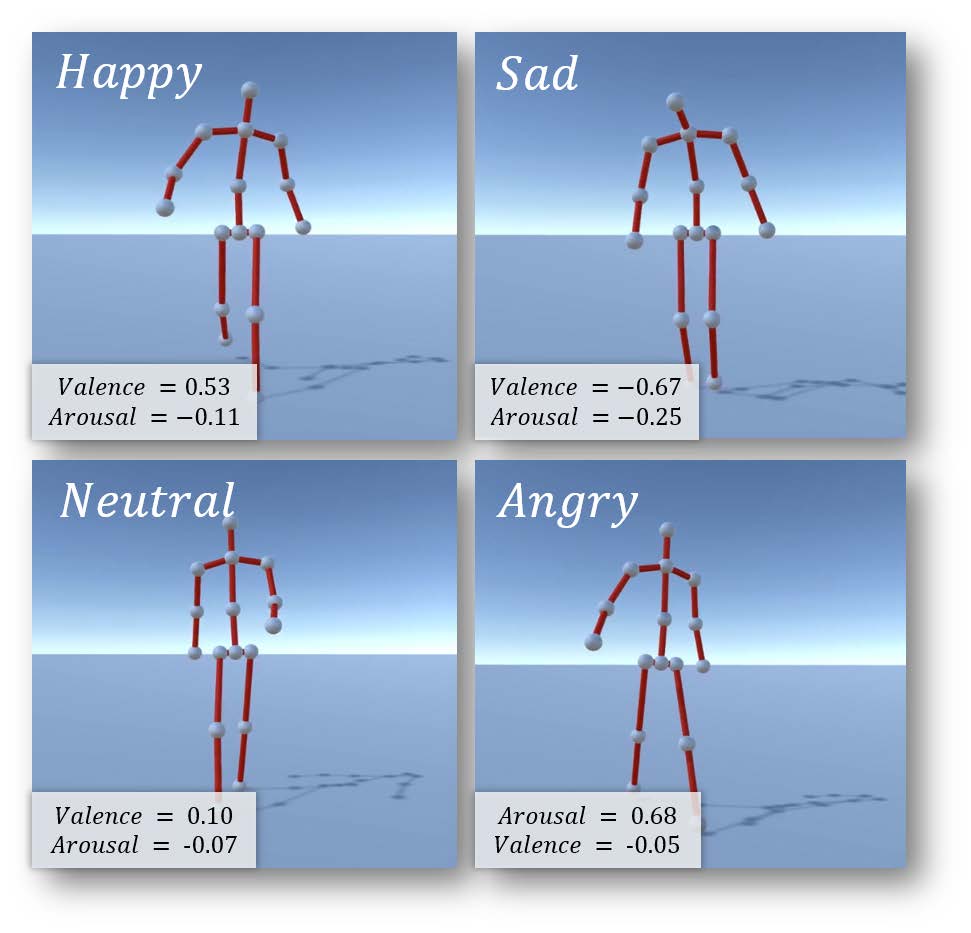 A paper written by Professor Dinesh Manocha's GAMMA Research Group, has won Best Paper at the 15th Annual Association for Computer Machinery (ACM) SIGGRAPH Conference on Motion, Interaction and Games (MIG), held from the 3rd to the 5th of November in Guanajuato, Mexico. The paper, entitled "Learning Gait Emotions Using Affective and Deep Features", was co-authored by Tanmay Randhavane, Uttaran Bhattacharya, Pooja Kabra, Kyra Kapsaskis, Kurt Gray, Dinesh Manocha and Aniket Bera.
Through their work, the group has presented a data-driven model and algorithm that can be used to identify the perceived emotions of individuals based on their gaits or walking styles. They have been able to link perceived emotions to the gaits of walking people with a high accuracy.
First, the researchers analyzed four emotional labels (happy, sad, angry and neutral) vs. the number of gaits with a specified period for each study participant. They then compared the posture features to the gait using emotion characterization in visual perception that is commonly used in psychology literature. They used upper body features such as the area of the triangle between the hands and the neck, the distance between the hand, shoulder and hip joints, and angles at the neck and back.
It was discovered that certain body joints are more prone to change depending on the emotion of the walker. For example, participants that were noted as happy or angry activated responses in the foot and hand joints, whereas those that were sad had activation points in the back and head joints, which interestingly correspond to psychological findings of slouched posture being associated with sadness. In a neutral gait, each joint (hand foot, back and head) is activated.
The information taken from this approach has been applied to social robotics, autonomous driving and VR/AR applications (virtual character/avatar generation). It can also be used to observe individuals in a variety of environments, which could have far-reaching implications in anomaly and early mental health detection technologies, suggesting potential benefits of AI for improving Public Health. Gait-based research could also be applied to areas such as aging rehabilitation and depression detection by linking the relationships between mental health, age, and gait-based emotions. Such algorithms can also enable more immersive response from virtual agents to users of social robots, AR/VR/MR and Metaverse technologies, as well as better human-centric design of digital media and e-health for a diverse range of 3D visual computing applications. The GAMMA Research Group has published many papers on these applications with broader impact, available at: https://gamma.umd.edu/researchdirections/ac
ACM SIGRRAPH is a special interest group of the ACM. It is comprised of researchers, artists, developers, filmmakers, scientists and business professionals who specialize in computer graphics and interactive techniques. The goal of the ACM SIGGRAPH MIG conference is to bring together researchers in a variety of fields to present work and initiate collaborations on motion as applied to game technology, robotics, simulation, and computer vision, as well as physics, psychology and urban studies.
The full paper can be read HERE.
Published November 16, 2022