COVID-19 Engineering Solutions: In the News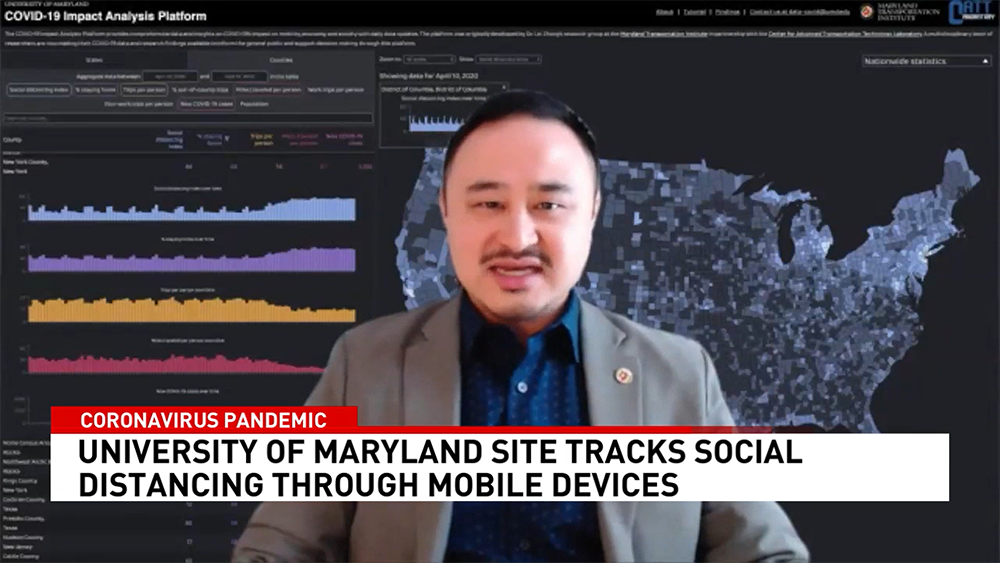 In response to the novel coronavirus pandemic (COVID-19), researchers at the University of Maryland's A. James Clark School of Engineering are working tirelessly to create solutions and pool resources in efforts to minimize the spread of the disease, provide critical aid to health care workers and their patients, and monitor the impact of social distancing and travel restrictions. Learn more about these efforts.
Select media coverage of the Clark Schools response efforts includes:
COVID-19 Spread at Presidential Debates
Experts from engineering and public health partner on recommendations to the Commission on Presidential Debates for helping to prevent the spread of COVID-19 at the 2020 presidential debates. They say that airborne transmission of the coronavirus at the debates can be reduced with three items from a local home improvement store.
Aerosol Study for Music Activities
UMD joins a number of organizations to study the effects of COVID-19 on performing arts classrooms and venues by examining aerosol rates produced by instrumentalists, vocalists, and even actors and how quickly those aerosol rates accumulate in a space.
Understanding Spread via HVAC Systems
Clark School faculty provide expert commentary on how air conditioning and air filtration systems may be a factor in the spread of COVID-19.
Big Data Analysis of Human Mobility Behavior
UMD researchers are providing a real-time picture of where people are traveling, how their behaviors can affect the spread of COVID-19, and how the pandemic is impacting the economy. They have made their data and findings, which are updated daily, available to the public in order to help officials make informed decisions.
Engineering Kits
When COVID necessitated the cancellation of in-person summer camps for middle and high school-aged students, the Women in Engineering Program came up with a hands-on solution to continue introducing young learners to engineering.
Mobile Testing Booths
UMD researchers working in collaboration with Johns Hopkins University and the Baltimore City Health Department are developing a low-cost, rapidly deployable mobile testing booth, similar to a traditional phone booth in both size and shape.
UV Irradiation
Some scientists hope a decades-old technology could zap pathogens out of the air in stores, restaurants, and classrooms, potentially playing a key role in containing further spread of the infection.
Terpsanitizer
Engineering faculty and students use their lab capabilities to produce hand sanitizer for area first responders, as well as UMD staff and students on campus.
Incubator-Hatched Solutions

TechPort, a UMD-supported business incubator in St. Mary's County, is working to produce face shields, breast pumps-turned-ventilators, and a device to sterilize PPE using heat. The efforts include Alex Scott, a 2018 graduate of the Clark School.
Protection Collections for Local Health Care Workers
Units across the Clark School and UMD collect and donate supplies to local health care providers facing looming equipment shortages.
Read more about Clark School responses to COVID-19 here.
Published April 27, 2020