Protection Collections Abound for Local Health Care Workers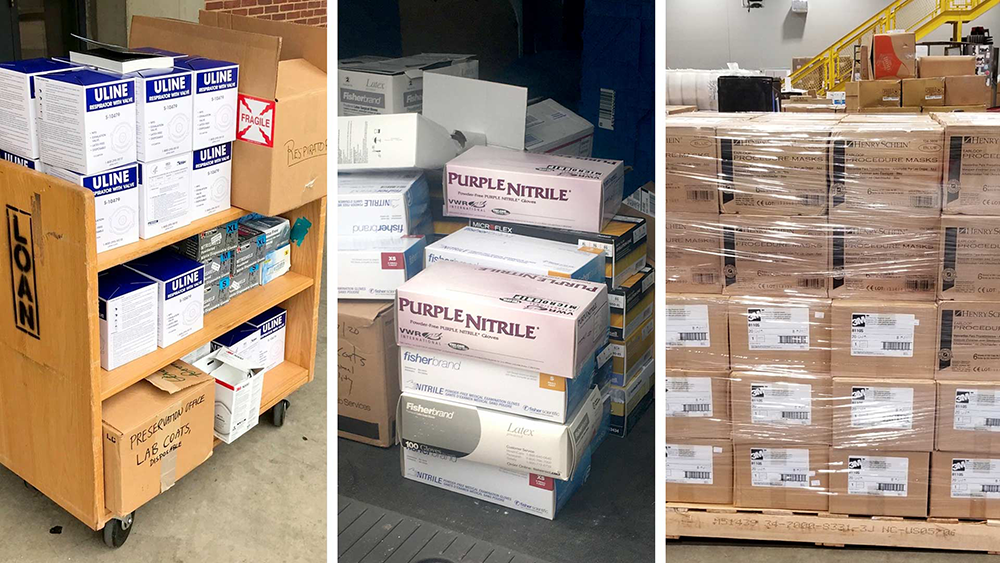 A global pandemic was heading toward Maryland, and university officials started preparing for the worst by buying up tens of thousands of protective masks to protect the campus community.
This wasn't last month, but in the late 2000s, when avian influenza threatened the nation. Now staff in the Division of Administration and Finance has uncovered the stockpile in a storage facility and is donating 12,000 N95 respirators and 12,000 surgical masks on hand to the University of Maryland Medical System (UMMS) for health care workers fighting to save those infected by COVID-19.
It's just one example of units across the University of Maryland collecting and donating supplies to local health care providers facing looming equipment shortages as the outbreak expands.
"When something big like this is going on, everybody is figuring out what they can do to help," said Reuven Goren, coordinator of the Clarice Smith Performing Arts Center's Scene Shop, where he uses protective gear like masks and gloves to build sets and props.
It was Goren's idea to give the shop's six boxes of N95 masks and some 40 boxes of protective gloves to a hospital in need. They are now at Walter Reed Military Medical Center in Bethesda.
Hospitals in Maryland and across the country are in desperate need of personal protective equipment including masks, gloves, goggles, and lab coats as well as hospital-grade cleaner and testing swabs. To contribute, email Christina Conrad at cconrad8@terpmail.umd.edu or James Shamul at jshamul@umd.edu or visit getusppe.org.
More than 15 labs across bioengineering, biology, physics, animal sciences, electrical engineering, mechanical engineering, and the Nanocenter have donated needed medical supplies to hospitals in Prince George's County and Baltimore. Coordinated by doctoral students Christina Conrad and James Shamul, the Fischell Department of Bioengineering as of Friday has collected 14,650 pairs of gloves, 2,660 surgical masks, 102 disposable lab coats, 59 N95 masks, 100 shoe covers, 17 goggles, 200 conical test tubes, 320 coveralls, 500 hair covers, and 18 gallons of ethanol.
"They aren't needed in our research labs, and our hospitals need to function," said Aileen Hentz, program director of student services who is also leading a supply drive at the Department of Aerospace Engineering.
The University Libraries' conservation department has donated 250 N95 respirator masks along with gloves and cover garments. It had kept these materials on hand as part of its disaster response protocol, should books and other library materials need saving. Now they'll go to the University Health Center to respond to a very different kind of emergency.
Over at the Department of Animal and Avian Sciences, veterinarian and instructor Dr. Angela Black is leading an effort to lend a ventilator to UMMS—devices in dire need to save those with the most severe respiratory symptoms. The ventilator was used by humans for several years before being acquired by the department to be used on swine.
Black never had a chance to use it on animals, but "I glanced at it and thought—Oh my God, we should donate that."
This story originally appeared on Maryland Today.
Published March 30, 2020