Clark School Team to Compete in NASA's RASC-AL Competition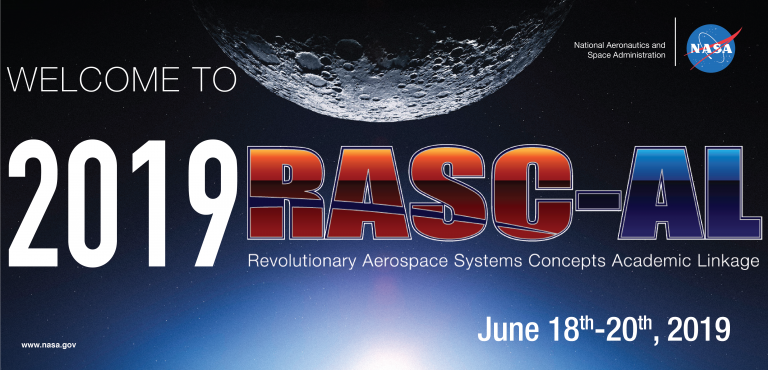 A team of four undergraduate students from the University of Maryland's A. James Clark School of Engineering will travel to Cocoa Beach, Florida, to compete in this year's Revolutionary Aerospace Systems Concepts - Academic Linkages (RASC-AL) competition, representing a larger team of 28 undergraduate students from the Department of Aerospace Engineering's ENAE484: Principles of Space Systems Design course. The competition will be held June 18–20, 2019.
Maryland returns to RASC-AL, a National Aeronautics and Space Administration (NASA) design competition managed by the National Institute of Aerospace (NIA), for the 17th year. UMD traditionally presents a strong showing at RASC-AL, having placed among the top two teams 11 times since 2003.
The 2019 RASC-AL competition asks teams to develop new concepts and innovations that will allow access and exploration of the moon's orbit via NASA's Gateway. Gateway, currently under development by NASA, is an orbital platform that would enable crewed missions to the moon, with the ultimate goal of sending a crewed mission to Mars.
UMD's team project, SHELL: Shuttle for Habitable Extended Lunar Landings, is a reusable lunar ascent–descent vehicle with the capacity to transfer humans and cargo from Gateway to the lunar surface. According to team member Pat Hoskins, who graduated in Spring 2019 with a B.S. in aerospace engineering, the team went the extra mile, surpassing RASC-AL competition requirements and designing SHELL with the capability to transport a pressurized rover and a long-duration lunar habitat in addition to cargo and humans.
Faculty advisor Dave Akin—associate professor in aerospace engineering, director of the Space Systems Laboratory, and affiliate of the Institute for Systems Research—has mentored Maryland students to participate in NASA design competitions since he began his career at the university in 1990. He says that the competition has many benefits for students, who know that NASA has a direct interest in their work and that they will be reporting their results to NASA.
Hoskins also spoke of the benefits of participating in RASC-AL, citing a strong work ethic and sense of camaraderie among team members as well as the practical applications of a project that will help NASA establish a research station on one of the lunar poles.
The team, advised by Akin; Mary Bowden, visiting assistant professor of aerospace engineering and acting director of the Women in Engineering Program; and Andrew Becnel, lecturer in aerospace engineering, travels to Cocoa Beach, Florida, on June 17 to present SHELL.
For more information about the competition, visit rascal.nianet.org, live stream the event at livestream.com/viewnow/RASCAL-Forum, or follow along with the competition on social media:
Published June 12, 2019