UMD Team Wins 2015 Robo-Ops and Sets New Course Record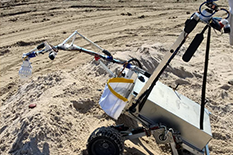 A University of Maryland team beat out seven other universities to win first place in the 2015 RASC-AL Exploration Robo-Ops Competition (Robo-Ops). Robo-Ops is an engineering competition, sponsored by NASA and organized by the National Institute of Aerospace, that challenges undergraduate and graduate students to create a multi-disciplinary team to build a planetary rover prototype and demonstrate its capabilities through a series of field tests at the NASA Johnson Space Center's Rock Yard.
The UMD team's rover, dubbed 'Frigg,' was designed and developed by students in Professor Dave Akin's spring 2015 Planetary Rover Development course. During competition, Frigg had to collect a variety of 'samples'—color coded rocks—while navigating a course that simulates rocky fields, lunar craters, sand dunes and a Mars hill. Teams could also earn bonus points for returning with the rocks to the starting point on top of Mars Hill, for collecting at least one rock from each of the four terrains and for acquiring an "alien life-form."
Sounds simple enough, except that Frigg was being controlled remotely from a home campus "Mission Control Center" using a commercial broadband wireless uplink, and students navigated the course using only the data they received through a streaming video feed from on-board cameras. In Texas, a three-person 'pit crew' team monitored the rover and provided on-site support.
Maneuvering a robot through a rock yard over 1400 miles away is no easy feat, and before Frigg even hit the ground in Houston, the students spent days leading up to the competition fine tuning their driving skills, working out last minute kinks and making sure that everything was operating as smoothly as possible.
Junior Shaheer Khan, who worked on the software team and was Frigg's primary driver, spent most of that week honing his driving skills.
"I spent hours and hours every day practicing driving the rover remotely, working with our arm operator Elena [Shrestha] to get the sample acquisition time down as low as possible," Khan said. "We practiced maneuvering and picking up rocks on sand dunes and gravel, in between, under and over big rocks, and every other possible situation we could think of!"
Their diligence paid off. The team not only successfully navigated Frigg to first place, but they set a new course record for points with a score of 102, beating out West Virginia University's 2014 Robo-Ops' record of 99.
Competition adds a whole new motivator, according to aerospace engineering senior Lemuel Carpenter.
"So many students stuck around after finals just to put in the extra time and effort to help improve Frigg all the way up until [we] had to start driving it down to Texas," said Carpenter, who was head of the mechanical/structural team and served as part of the Texas pit crew. "It's always a nice feeling when all of your hours on a project pay off."
In addition to securing first place and a new course record, the team won recognition for 'Best Climbing Ability' and for having the most weight loss in their rover over the past year. Frigg was the third lightest robot in the competition which allowed the team to compete on day two rather than day one.
"This was utterly crucial," explained Khan. "It allowed us to simply observe and plan during the first day, and to show up the next day with a solid game plan."
Once the hour-long competition in the Rock Yard began, rover drivers were not allowed to know the time or score, explained graduate student Chris Carlsen. Carlsen, a machinist and mechanical design advisor for the team, along with fellow graduate student mentor Kate McBryan coordinated maps and schedules during the event to determine targets and update time estimates.
"I would simply relay the next target to Kevin [Davis], who was acting as our communications officer, and he would guide [the drivers] along," Carlsen said. "Unknown to our pilots, we finished with 30 seconds to spare and 102 points worth of rocks. We put out our best effort and performed even better than expected."
What's next for the UMD Robo-Ops Team? According to Carlsen, the team wrote code during the course of Frigg's development that they will be contributing later this year to the Robot Operating System's open source project.
"Now that we have raised the bar for next year," Carlsen added, "We look forward to showing the world just how unstoppable a terrapin is."
The UMD 2015 Robo-Ops Team included:
Faculty Advisor:
Professor Dave Akin
Students:
Marlin Ballard
Lemuel Carpenter (Houston team)
Justin Kanga (Houston team)
Daniel Arble
William Beckman
Robert Brown
Joshua Drubin
Zeyad Emam
Joshua Kaffel
Shaheer Khan (robot driver)
Joshua Pugh
Elena Shrestha (robot arm operator)
Graduate student mentors:
Christopher Carlsen (overall systems mentor)
Kevin Davis (software mentor)\
Nicholas D'Amore
Donald Gregorich
Nicholas Limparis
Katherine McBryan
For more information on the 2015 UMD Robo-Ops, check them out on Facebook.
For more information on the Robo-Ops Competition, visit their website.
Published June 22, 2015