UMD UAS Test Site Team Assists EPA and NSWC Indian Head Division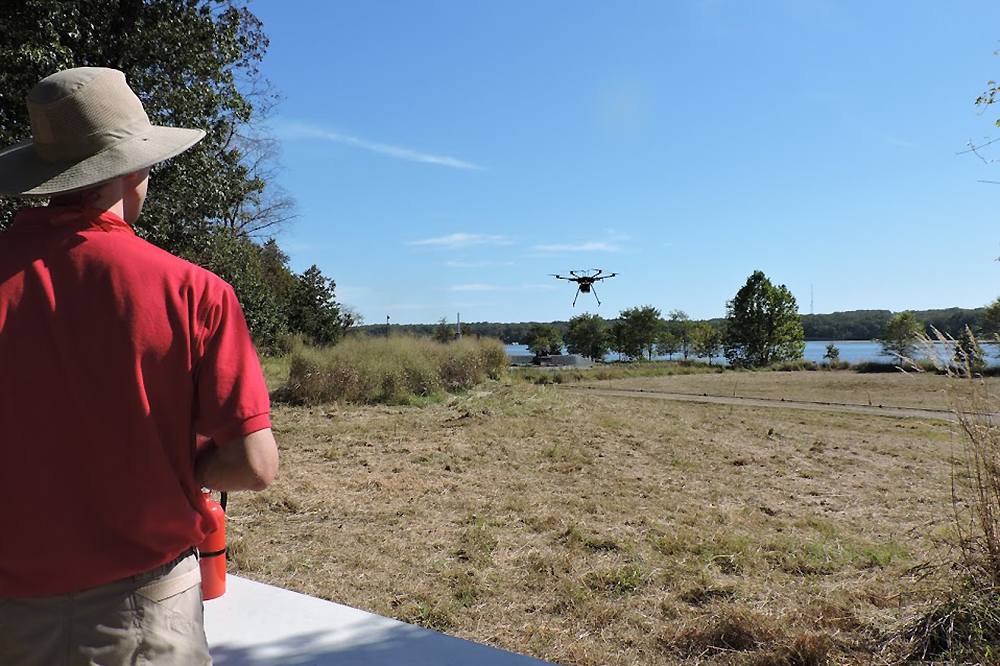 Cleaning up decommissioned explosives production and processing equipment is no simple task: the scrap may contain cracks and crevices that could conceal explosive residues that must be removed before disposal or recycling. One common way to decontaminate explosive residues is through burning.
Burning, however, releases pollutants into the atmosphere. On October 14, the UMD UAS Test Site assisted a research group from the Environmental Protection Agency (EPA) Office of Research and Development and the Naval Surface Warfare Center (NSWC) Indian Head Division with tests of a new, more environmentally friendly burn unit.
Data from the tests "will be used to validate the new explosives decontamination unit and to quantify the expected reduction in pollutants compared to the legacy unit," said Jeanne Hartzell, the coordinator for this environmental research project, which is being funded by DoD's Environmental Security Technology Certification Program (ESTCP).
The new, propane-fueled burn unit is expected to produce much lower emissions compared to the existing wood-fired unit, Hartzell said.
As smoke drifted up from a burn site at the Naval Support Facility Indian Head in southern Maryland, UMD UAS Test Site pilot Josh Gaus flew an M600 drone—equipped with an EPA-provided Kolibri air emission sensor—in a hover pattern above, while two visual observers, stationed respectively to the left and right, assisted in keeping track of the aircraft.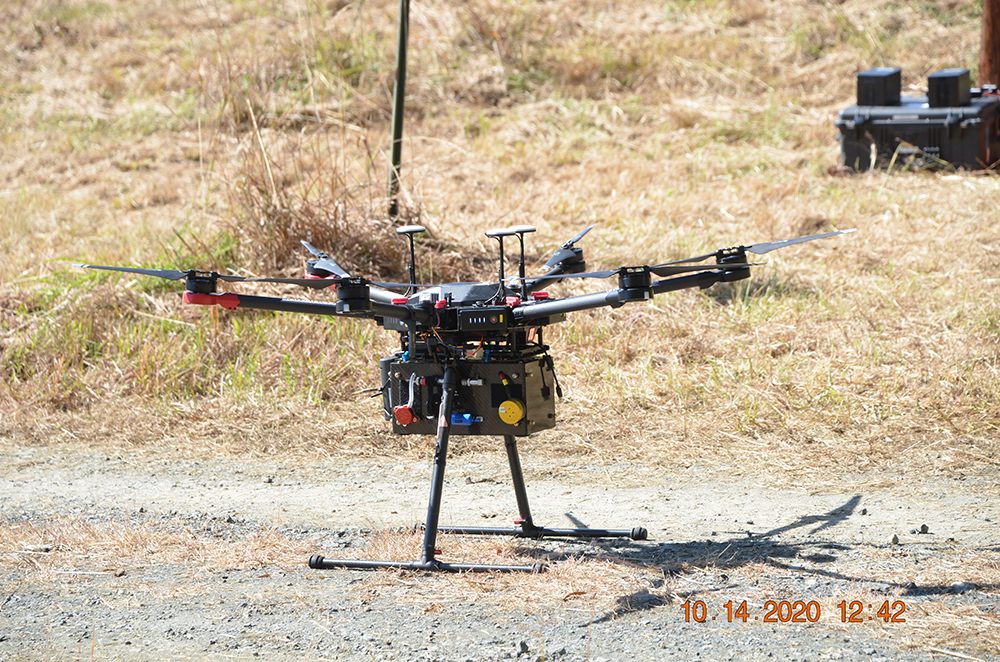 "Normally, we would create an automated flight plan, but in this case manual operation was needed," Gaus said. "The smoke blew back and forth as the wind changed direction, and we had to continually move the aircraft so that it remained in the center of the plume."
With the help of the sensor-equipped drone, the EPA team was able to obtain measurements for a number of carbon compounds and smoke pollutants. "The goal was to keep the drone in the middle of the plume so the EPA could gather as much information as they could," said Mark Porter, project manager for the Test Site.
Because of their size, maneuverability, and lower cost, drones can be of tremendous value in performing this kind of work, Porter said. "In the past, tests like these would have required use of a manned aircraft, or perhaps a crane with a boom extended over the burn site," he noted.
The EPA is one of several government agencies, including NASA and NOAA, that have collaborated with the UMD UAS Test Site to conduct various types of research.
"Our testing capabilities, operational best practices, and aviation experience make us an ideal partner for a wide range of projects, both civilian and military," Porter said. "We're the go-to place for anything drone related."
ESTCP Project Number: WP18-5038
For more information, visit https://www.serdp-estcp.org/Program-Areas/Weapons-Systems-and-Platforms/WP18-5038/(language)/eng-US
Published January 4, 2021