Modi Briefed on UMD-led Aquaculture Research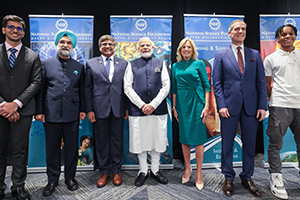 When Indian Prime Minister Narendra Modi paid a state visit to the U.S. in late June, he had the opportunity to learn more about cutting-edge science and engineering research endeavors, including a University of Maryland-led (UMD) project aimed at modernizing aquaculture.
At the invitation of  First Lady Jill Biden, Modi visited the National Science Foundation, where students briefed him on a range of innovative projects with the potential to improve quality of life around the globe.
Among them was Kaustubh Joshi, a UMD mechanical engineering doctoral student working with Professor Nikhil Chopra. He briefed the Indian prime minister, First Lady Biden, and other guests on the ways in which advanced technologies–including underwater robotics and machine learning–can help revitalize aquaculture and ensure a sustainable, reliable food supply for the future.
The U.S. Department of Agriculture is providing $10m in support for this research, which is being spearheaded by UMD mechanical engineering professor Miao Yu and an interdisciplinary, multi-institutional team that includes Chopra, Yiannis Aloimonos (computer science/electrical and computer engineering/UMIACS), Yang Tao (bioengineering), Don Webster (College of Agriculture and Natural Sciences), and colleagues from UMD and partner institutions. Chopra, Yu and several other members of the team are also faculty members or affiliates of the Institute for Systems Research and the Maryland Robotics Center at UMD.
Joshi's particular role in the project centers on localization, navigation, and control. Among other tasks, he creates maps and navigational systems that an underwater robot can use to find its way around and locate market-sized oysters. 
The mapping supports a precision approach to shellfish farming, one that is a far cry from the inefficient, ecologically destructive dredging techniques that are still widely used in the industry.
In his presentation, Joshi provided a big-picture view of the project's objectives and also demonstrated technologies used by robots that are deployed underwater.
"I discussed some of the issues that shellfish farmers in the Chesapeake Bay region are facing and explained how our underwater robotics technology can help them solve these issues by bringing about a more sustainable approach to aquaculture," Joshi said. "I also explained how similar approaches can be used in the context of Indian aquaculture."
"Kaustubh's research and the broader aquaculture driven robotics research at UMD and partner institutions is poised to have a transformational impact on sustainable aquaculture. This is evident from the attention this work is getting in US and abroad," said Professor Chopra,  Joshi's advisor.
Funding for the project was awarded by the United States Department of Agriculture (USDA) National Institute of Food and Agriculture (NIFA) in 2020. Research related to the endeavor has also received support through the NSF's Convergence Accelerator Research program.
Published July 13, 2023