Five hours of Maryland robotics on FOX 45 Baltimore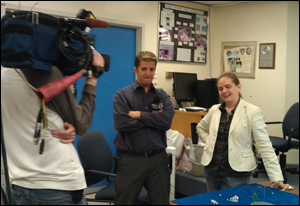 TV station FOX 45 Baltimore stopped by the Neutral Buoyancy Research Facility from 5 am to 10 am on Sept. 23 to do a live remote. Ten segments later, the reporter had covered our space robots, underwater robots, miniature robots and robots that move like animals.
Thanks to our colleague Missy Corley of the Clark School for being on hand the entire morning and for taking some photos of the action.
And thanks to our Maryland Robotics Center faculty and students for getting up so early to do awesome demonstrations and interviews.
Additional film aired at 10 pm.
| Watch the video at the Fox 45 web site |
Published September 23, 2011