STEM Summer Camp Covers 3D Printing, Drones, and More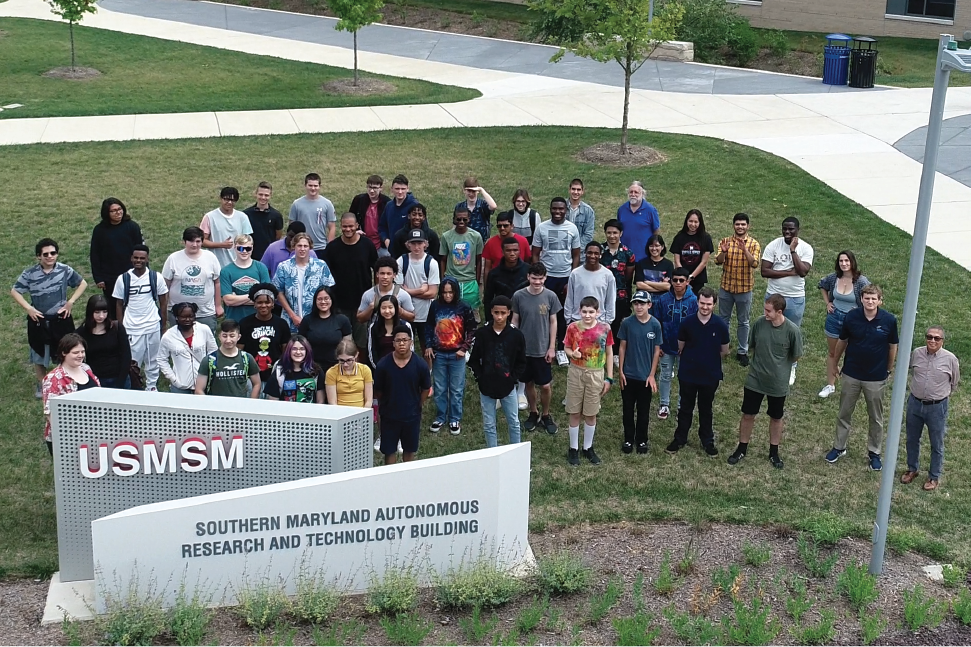 Projects start with learning concepts and context -- and this year's STEM Summer Camp for Future Problem Solvers followed that path. It was held from June 20-30 at the USMSM SMART Building and University of Maryland (UMD) MATRIX Lab in California, Md. More than three dozen high school students from St. Mary's, Charles, Calvert, Anne Arundel, and Prince George's counties finished projects featuring mechanical, electrical, and computer engineering concepts. The camp is a joint effort between UMD, USMSM, and the College of Southern Maryland (CSM). The UMD Mechanical Engineering and Electrical and Computer Engineering programs partner to help organize and run the camp. Dr. Danilo Romero is in charge of it - he is a Senior Lecturer at UMD and the Director of the Electrical Engineering Program at USMSM.
"The major goal of the camp is to provide a venue for high-school students to expose them to STEM fields of study," Dr. Romero said. "Our hope is the camp will develop the student interest in pursuing a career in any of the STEM fields."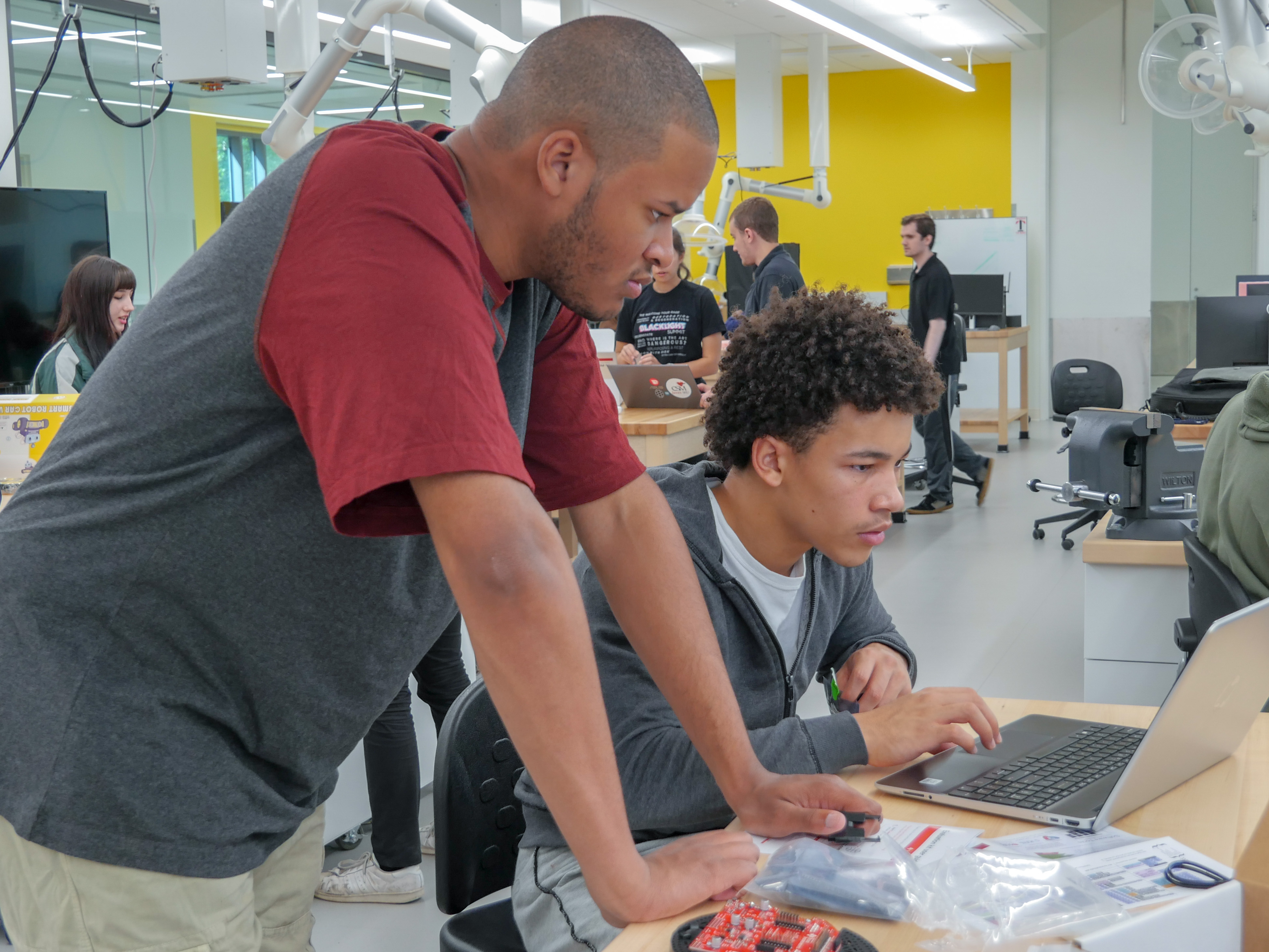 The camp kicked off with a wind and renewable energy lesson from Dr. Ben Hallissy with the U.S. Department of Energy. The students went to a lab after their lecture -- just like University of Maryland (UMD) engineering classes. They applied their lesson in the UMD MATRIX Lab Project Assembly Area by building wooden cars propelled by rubber bands, which represented potential and kinetic energy. They also took the first steps on their wind turbine project, which involved gluing together 3D printed parts. The next steps included the students designing and printing the last part for their turbines - a spacer. The activity was perfect for Nathaniel Newman, a rising senior at Northern High School. He said he's interested in engineering because of the opportunity to work with his hands and build things.
"My favorite lesson was the 3D printing of the windmill parts and putting them together in groups," Newman said. "We were able to take the designs of the parts and be able to hold and put the windmill together and test them."
To finish out the week and prepare for the next, students focused on microelectronics, microcontrollers, and coding, which included an introduction to Arduino, an open-source electronic prototyping platform.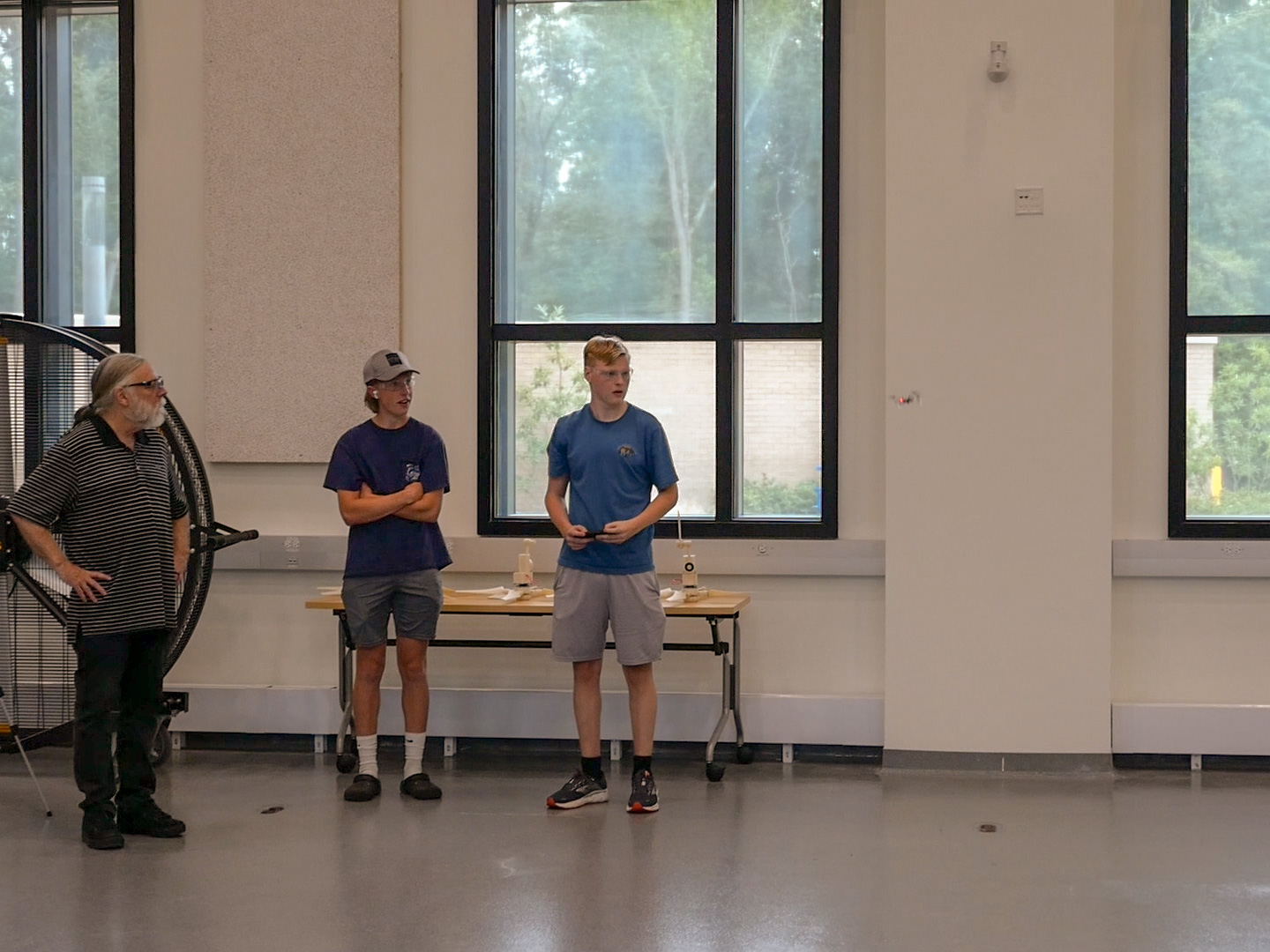 "My favorite activity that we did was teaching [the students] about Arduino and Python," said Jack Foster, a junior at the CSM Leonardtown campus who helped run the camp as an intern. "They were imaginative and curious on both occasions. Also, I think both topics challenged them while keeping them interested."
Week two takes advantage of MATRIX Lab spaces
Week two involved building and testing air and ground systems, one of the specialties of the MATRIX Lab. Students finished and operated their wind turbines - as well as assembled and flew small drones in the MATRIX's Open Air-Land Lab. They also built ground rovers and had the chance to autonomously and manually control them. Taking a break from the building and operating, they spent time developing apps.
"I enjoy getting hands-on experience with major concepts of engineering and working with like-minded people."
"I am biased towards robotics, particularly the autonomous drones as this is my current area of research," Dr. Romero said. "The ubiquity of robotics and artificial intelligence technologies is inevitable. It is very multidisciplinary involving members from different professional and cultural backgrounds."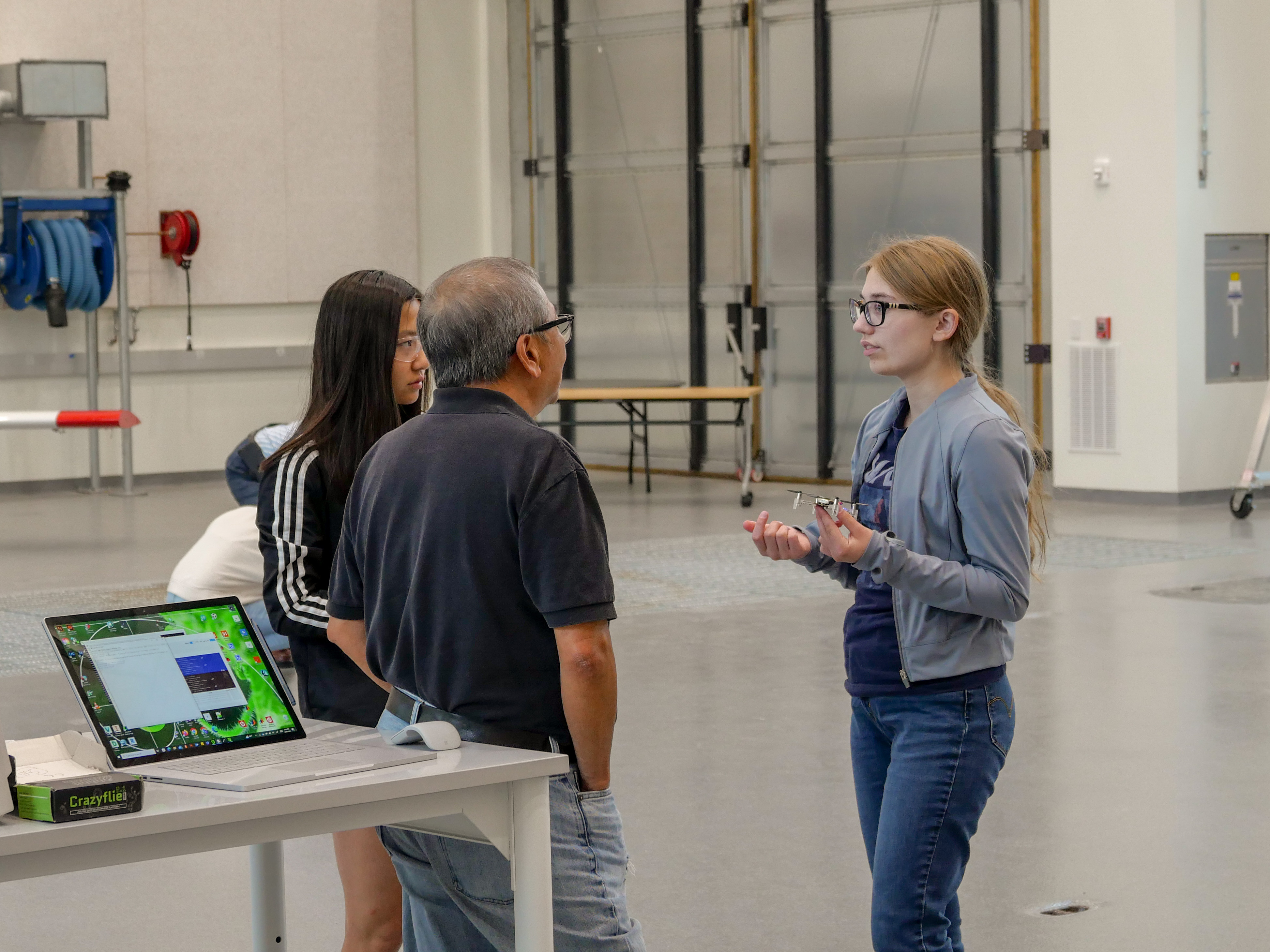 To round out the camp, students got to pick their favorite projects and focus on them, preparing to show them off during the STEM Open House on the last day. When asked what her favorite topic was, Northern High School junior Amelia Ashley had a tough time deciding.
"It's a tie between 3D printing because it has an artistic and imaginative element and drones because I'm interested in aerospace engineering," Ashley said. "I am passionate about aviation and space exploration."
The interns running the camp found it rewarding to watch the students work on their favorite projects.
"I think my favorite part about the camp was the day that the students were able to freely do what they wanted, whether it be drones, coding, Arduino or 3D modeling," said Ebin Sebastian, a rising junior at the CSM La Plata campus who is majoring in computer engineering. "It was really cool to see them work on projects that they were interested and passionate about."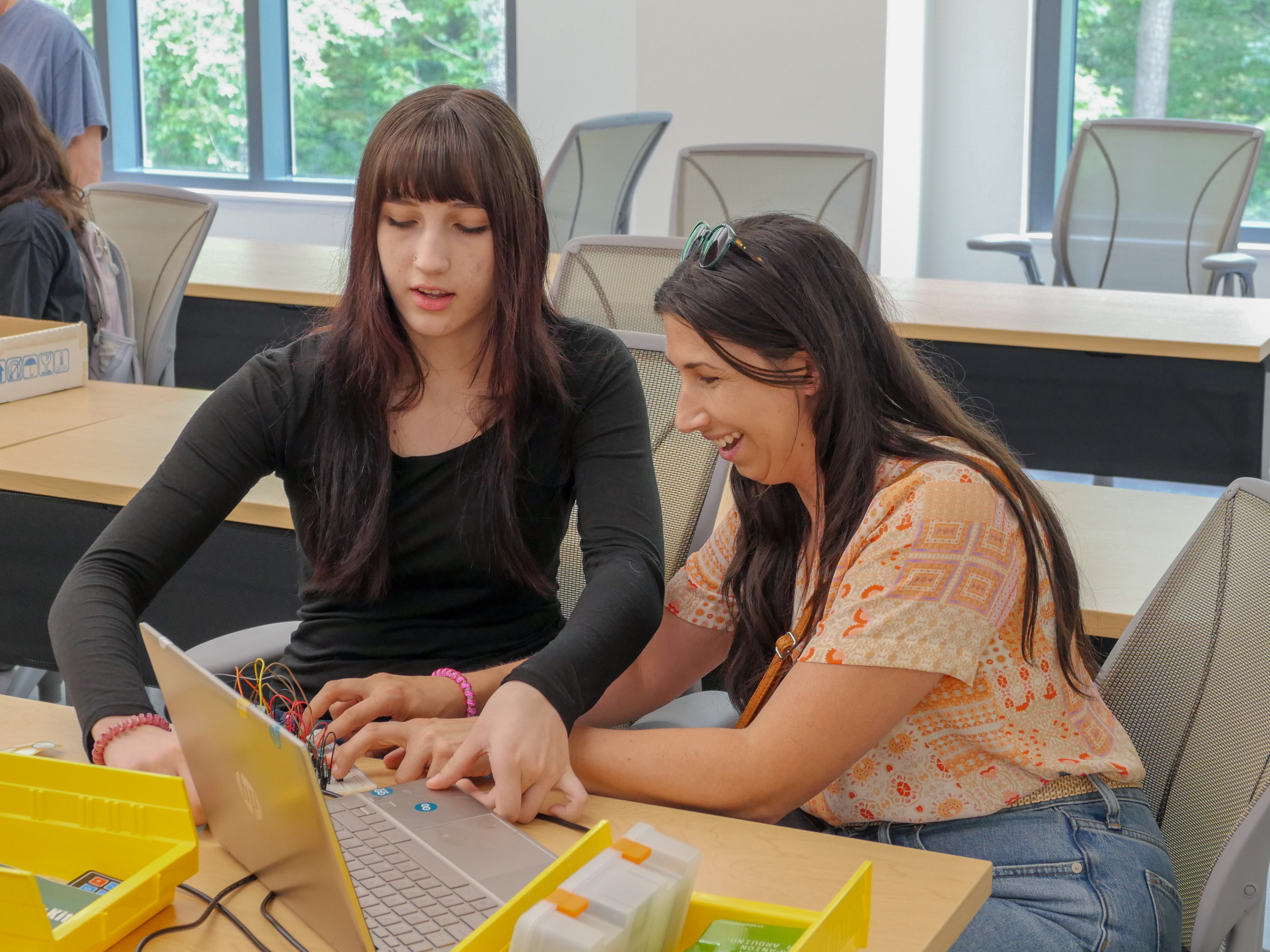 Parents and guardians traveled to the SMART Building to check out what their students had been working on. They also had the chance to learn about UMD, USMSM, and the Southern Maryland ecosystem. Bonnie Green, the Executive Director of The Patuxent Partnership (TPP), spoke about growing the STEM field in Southern Maryland and how the Tech Jobs Rule apprenticeship program is working toward that goal. The program is a partnership between TPP, the Forrest Technology Center, and the Strategic Education Office of the Naval Air Warfare Center Aircraft Division (NAWCAD). NAWCAD also works with UMD to offer mechanical and electrical and computer engineering programs at USMSM. The programs are tailored to prepare students for technology careers, particularly in Southern Maryland, where there are industry and government opportunities, including at Naval Air Station Patuxent River. Because of these programs, people who grew up in Southern Maryland can continue to live, learn, and work in the region.
Dr. Romero plans to offer the summer camp again next year. Topics on the syllabus include engineering design (Computer Aided Design and 3D printing), renewable energy harvesting technology (solar and wind energy), and robotics (coding, microelectronics, sensors, microcontrollers). Students will be able to attend one or all of the lesson topics, then apply the knowledge and skills they learned during the camp to work towards one big project (e.g. a solar and wind powered autonomous rover). Some students are already excited to return.
"I am planning on coming back because I enjoy getting hands-on experience with major concepts of engineering and working with like-minded people," Ashley said.
"It's important for kids to learn STEM and attend the summer camp because it gives those who are interested a chance to further expand their knowledge and explore the different topics offered from the program," said Johnny Hawk, who graduated from the University of Maryland in May 2022 and helped run the camp as an intern. "At the end of the day, being able to pick and choose a specific topic of interest and gain hands on experience is a great opportunity for the kids to become what they want to be when they grow up."
Published July 24, 2023