Maryland Robotics Center launches a new postdoctoral fellowship program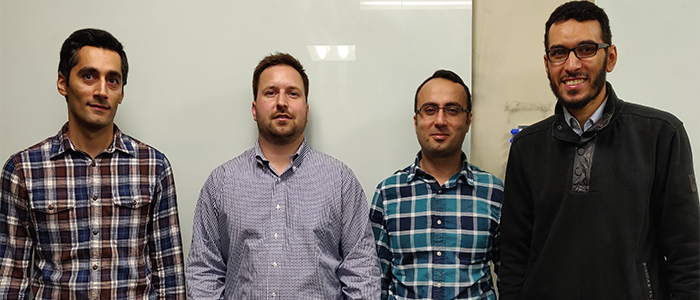 The Maryland Robotics Center (MRC) has launched a new postdoctoral fellowship program to foster multidisciplinary collaborations among its faculty and to enable high-impact exploratory research in robotics. The program is jointly funded by the Maryland Robotics Center and the Dean of the A. James Clark School of Engineering.
Proposals from MRC faculty were solicited in the spring 2018 semester in two different categories: human-robot interaction and bio-inspired autonomous systems. The program committee selected four proposals for funding. A kickoff was held Sept. 13, 2018 with each team presenting its project. Awardees are to submit at least one related research proposal within two years and have at least one publication or conference presentation.
The winning proposals in the human-robot interaction category were:
"Modularizing Fine-Motor Tasks for Collaborative Robots with Active Vision and Tactile Sensing." Faculty team: Cornelia Fermuller, Yiannis Aloimonos and John Baras. This project aims to develop flexible modules for a set of fine-motor manipulation tasks for robots and seeks to create a model by combining robotic action with vision and sensing to enable robots to understand what currently is happening and predict the near future.
"Intelligent Robotic Systems for Damage Control Surgery." Faculty team: Nikhil Chopra and Axel Krieger. This project focuses on providing immediate support to patients suffering from traumatic injury in the critical first hour after injury occurs. It will provide remote surgeons to assist medics and non-surgeons in performing damage control surgery using on-site, AI-equipped autonomous robots.
"Soft Tactile Sensing for Therapeutic Robotics." Faculty team: Elisabeth Smela and Anindo Roy. The goal of this research is to equip therapeutic robots with tactile sensing to enhance their performance and reliability. It will enable bio-inspired robots to assist in walking and other functional tasks.
The winning proposal in the bio-inspired autonomous systems was:
"Multi-Vehicle Sensing and Control with Autonomous Aerial Robots." Faculty team: Derek Paley and Timothy Horiuchi. This project is focused on replacing manned aircraft with unmanned aircraft systems (UAS) in situations concerning air-to-air coordination. The research will take inspiration from insect groups to formulate and demonstrate the navigation of UAS in an environment which involves multiple systems engaging in a chase-evade game, where the role of the chasers and evaders continuously changes.
Each winning faculty team has been awarded funding for one postdoctoral fellow for one year. The four postdoctoral fellows selected to work with the winning faculty teams are Behzad Sadrfaridpour, Hamed Saeidi, Arthur Wolek and Ahmed Ramadan.
Published September 14, 2018