Maryland Robotics Center Celebrates 10th Anniversary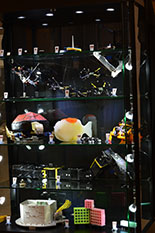 Ten years ago, a new interdisciplinary research center at the University of Maryland (UMD) opened its doors, with the goal of supporting further advancements at UMD in the critical field of robotics.
Since then, the Maryland Robotics Center (MRC) has grown in scope and size, supported high-impact research, nurtured aspiring robotics students, and brought noted innovators, entrepreneurs, and thought leaders to campus. To commemorate the highlights so far, the MRC has unveiled a robotics time capsule that showcases some of the bio-inspired robots created by UMD students and researchers over the past decade, including a soft robotic hand, a jumping robot, and bio-inspired robots that mimic the properties of birds, fish, snakes, and turtles. The capsule is viewable in the Robotics Manipulator Laboratory in the Brendan Iribe Center for Computer Science and Engineering, Room 0116. Artifact descriptions are available online at robotics.umd.edu/timecapsule2020.
The anniversary is an opportunity to take stock of all that has been accomplished so far, while also looking ahead to future developments, said MRC Director and Willis H. Young Jr. Professor of Aerospace Engineering Education Derek Paley.
"In the first 10 years of the Maryland Robotics Center, MRC faculty, staff, and students have made long-lasting contributions across a range of robotics research areas, including bio-inspired robotics, multirobot systems, and miniature robots," Paley said. "These contributions to the state of the art are embodied in the unique array of devices, components, and prototypes we collected for the MRC Time Capsule, from Big Bird to TinyTerp."
"Our goal with the time capsule is to highlight and commemorate our collective progress over the past decade in a visible display, which also serves as motivation for our ongoing and future work," he said.
The MRC was originally launched in August 2010, with Satyanda Gupta as its founding director. Based in the Institute for Systems Research (ISR) in the A. James Clark School of Engineering, it brings together faculty from the UMD departments of aerospace engineering, bioengineering, biology, civil and environmental engineering, computer science, electrical and computing engineering, kinesiology, and mechanical engineering.
As part of its growing educational role, the MRC offers graduate-level robotics degree and certificate programs through Maryland Applied Graduate Engineering. An undergraduate robotics minor will be offered through the MRC starting in 2021 (pending university approval).
The Center hosts regular seminars through its Lockheed Martin Robotics Seminar Series, with recent topics covering the gamut from autonomous exploration to computer vision. The MRC's Student Seminar Series, meanwhile, covers emerging topics in the field as well as professional skill areas, such as grant-writing.
Ankur Srivastava, director of the ISR, said the Center has amplified UMD robotics research by forging connections across the University of Maryland System and beyond.
"When we started the MRC, it wasn't so we could begin to do robotics research at UMD. Rather, it was to help put the university's already great robotics research on the map in a way that would be visible to the outside world," he said. "We're proud that in its first decade the MRC has accomplished that and more. It's been a way for our researchers across colleges and disciplines to interact and partner with each other for new projects. And the Center has been instrumental in developing new educational programs, including undergraduate courses, certificates, and an M.Eng. degree in robotics."
"The ISR is proud to host the Maryland Robotics Center and we look forward to its second decade of success!" Srivastava said.
MRC-affiliated researchers have been involved in some of the most impactful projects undertaken at the Clark School, from the first-ever drone delivery of a live organ for transplant to a newly-launched USDA-funded project that aims to revolutionize shellfish aquaculture, using underwater drones and other advanced technologies.
"We're in the age of robots: whether we see them or not, they're critical to our work and lives. From robots that move like fish—securing ports and harbors and cleaning our oceans—to ones that swarm like bees to carry out tasks, the MRC has helped develop technologies essential to the places we live," said Clark School Interim Dean Robert Briber. "Congratulations on ten years of innovation. Here's to another ten years!"
Published December 20, 2020