Derek Paley featured in new NSF research video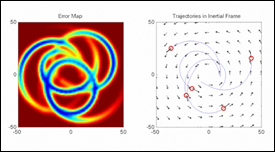 A new National Science Foundation
video
features ISR-affiliated Assistant Professor
Derek Paley's
(AE) unmanned aerial vehicle research to help predict the strength of hurricanes.
Paley's Collective Dynamics and Control Laboratory focuses on collective behavior, specifically on how groups of unmanned vehicles can work together to solve problems.
"Our work focuses on how we might use unmanned aircraft to collect observations or measurements of temperature, moisture and wind inside a hurricane to improve the forcasts of a hurricane's strength and give people more time to evacuate if necessary," Paley says.
| View the video on NSF's Science360 website |
Published October 14, 2011