Clark School Graduate Program Ranks 18th Nationally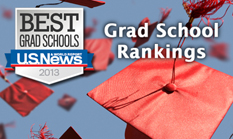 In the U.S. News & World Report 2013 Best Graduate Schools ranking, the Clark School jumped from 22nd to 18th place, 9th among public schools. Six departmental programs ranked in the top 25.

The Department of Aerospace Engineering is in the top 10 at 8th. Two departments, encompassing three categories, ranked in the top 20: The Department of Electrical and Computer Engineering (in both categories) at 16, and the Department of Mechanical Engineering at 18. The Department of Civil and Environmental Engineering and the Department of Materials Science and Engineering ranked in the top 25. The complete Clark School rankings are:

8 Aerospace Engineering
30 Fischell Department of Bioengineering
39 Chemical and Biomolecular
24 Civil and Environmental Engineering
16 Computer Engineering
16 Electrical Engineering
24 Materials Science and Engineering
18 Mechanical Engineering

Dean Darryll Pines congratulated all departments for their "hard work and dedication to the Clark School's graduate education programs."
Published March 12, 2012