Axel Krieger Gives Keynote Lecture at Visceral Surgery Conference in Germany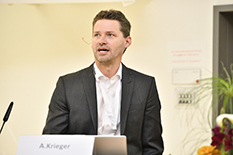 On May 9, 2019, Dr. Axel Krieger gave a keynote lecture at the opening ceremony of the Visceral Surgery Congress in Bonn, Germany. Started in 2004, the Visceral Surgery Congress is a bi-annual conference organized by the University Hospital of Bonn, Germany, which focuses on medical advances in gastroenterological surgery. This year, the conference was held May 8-10 at the Caesar Research Center in Bonn and focused on advances in robotic surgery. A large number of established and up and coming surgical robotics companies from all over the world exhibited and presented much of their exciting work.
Dr. Krieger discussed the current hindrances to fully autonomous visceral surgery, one of the most important being the constant movement of organs and tissue in the intestinal system. The current methods of autonomous surgery that rely on pre-op and post-op imaging are not suited to the continually variable environment of the intestinal system; therefore, more unique solutions must be adapted for this application. Examples include surgical adaptations of "lane assist" and "park assist", which are current assistive functions present in autonomous and semi-autonomous cars. The lecture was very well received and opened the floor to a unique discussion about the future possibilities and applications of robotics in the visceral, surgery domain.
Published May 13, 2019