UMD Takes Second at VFS Design-Build-Vertical-Flight Competition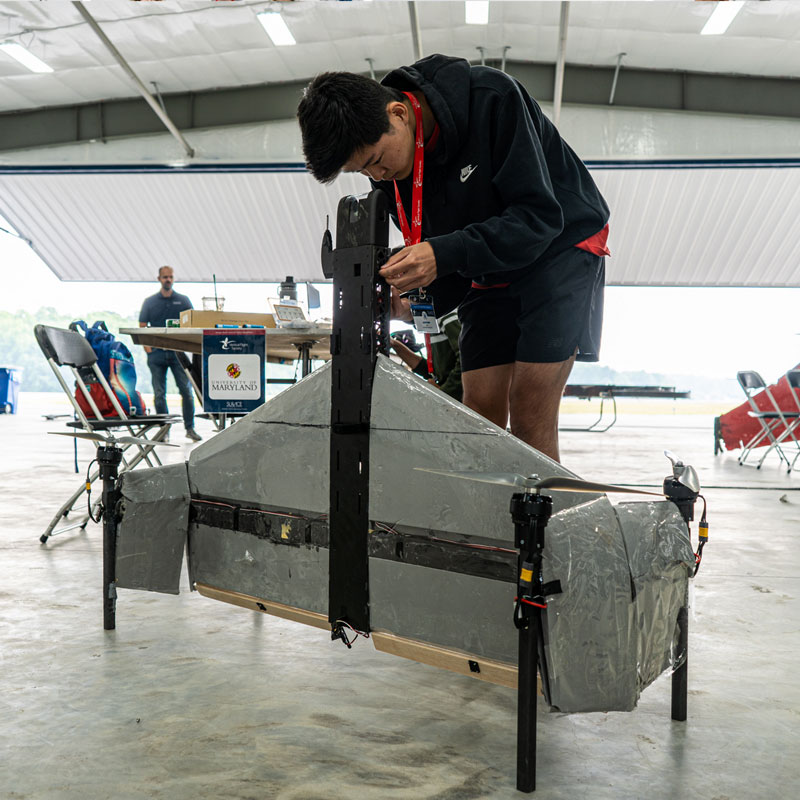 The University of Maryland (UMD) Autonomous Micro Air Vehicle (AMAV) team took second place in this year's Vertical Flight Society (VFS) Design-Build-Vertical-Flight Competition. The team's preliminary design report was also among the top five highest scoring during the competition.
The VFS annual remote-control and autonomous, electric-powered vertical takeoff and landing (VTOL) competition seeks to encourage student interest in unmanned aircraft technology, and small air vehicle design and fabrication. The competition is designed to develop hands-on skills and familiarization with electric VTOL and advanced air mobility (AAM) technology at the university student level, helping to prepare the next generation of engineers and leaders to push the limits of this exciting technology into the future.
The UMD team's competition entry, Horizon, leveraged a tailsitter design, which means the vehicle takes off and lands on its tail, versus more traditional horizontally oriented vehicles. While the team wanted their design to be successful in the competition, they also wanted to emphasize uniqueness and incorporate the latest manufacturing technologies.
As part of the competition, the team's final vehicle was tested for agility and endurance through successfully completing as many laps as possible on a predetermined course in under ten minutes. In addition, the drone had to perform a full VTOL landing at both the beginning and end of each lap.
This year's flyoff was hosted by SURVICE Engineering, and held at the Harford County Airport in Churchville, Maryland, on June 6–8.
"The long-range endurance course in this year's event pushed teams to consider out of the box UAS configurations," said Dr. Jason K. Cornelius, the DBVF Program Director, in a VFS press release. "Combining challenging tailsitter and lift + cruise configurations with high on-site winds presented a truly real-world test environment for the students. I was greatly impressed by the ingenuity and resilience of the students and am looking forward to the continued growth of the event."
AMAV's VFS competition team is advised by Professor Derek Paley and Joshua Gaus, a project engineer for UMD's UAS Research and Operations Center, and included graduate and undergraduate students from across aerospace, mechanical and robotics programs. Aerospace engineering Ph.D. student Animesh Shastry served as the team lead, while mechanical engineering undergrad Alex Wang served as the design lead for the drone.
VFS awarded a total of $5,000 in cash prizes to schools in the competition this year. UMD received $1000 for 2nd place.
To learn more about UMD's AMAV team, visit amav.umd.edu.
Published June 29, 2023