Short Course Offers Opportunity to Build and Fly Drones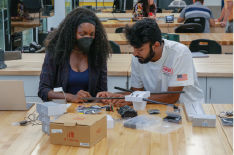 Uncrewed aerial systems (UAS) are becoming an important part of the modern world, especially in the industry- and defense-oriented Southern Maryland community. Drones are used by everyone from military personnel, to farmers, to photographers. Because of this, the University of Maryland (UMD) MATRIX Lab held a short course focusing on relevant skills related to aerial autonomy. "How to Build, Fly, and Verify Autonomous Aerial Systems" was held in the USMSM SMART Building this summer and led by UMD faculty member Dr. Mumu Xu. Dr. Xu is an associate professor with a joint appointment in Aerospace Engineering and the Institute for Systems Research. Experts from the UMD UAS Research and Operations Center (UROC) supported the course, including Lead Engineer Josh Gaus. Topics covered included:
Autonomy/AI and specifically aerial autonomy
Aerial autonomy in the world of academia and the outside world, and the gap between the two
Building and flying drones
Verification and validation of systems
Flight simulations
"We wanted to provide a course that touched on all the aspects of autonomy for drones," Dr. Xu said. "We focused on topics you may not learn just by working on a project or taking a programming class."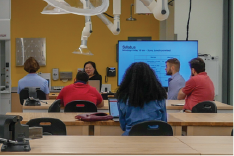 Participants had experience with artificial intelligence (AI) or drones, but generally not both. The course aimed to connect the two topics. Lectures in the morning complemented labs in the afternoon. The course began with an overview of the history of aerial autonomy to demonstrate the progress that's been made. Dr. Xu also shared common definitions of AI-related topics to keep everyone on the same page, and used videos of drones, robots, even a "Jeopardy!" question to enhance the lecture. Gaus discussed theoretical and practical applications of aerial autonomy and shared valuable lessons he has learned during his time with UROC. Those included testing systems at each different level of autonomy in order to troubleshoot and pinpoint problems.
"One of the main concepts we wanted to convey was the need to understand the basic mechanics of the aircraft and how it works at the flight controller level of automation," said Gaus. "Students could then successfully integrate higher level AI decision making into these types of platforms."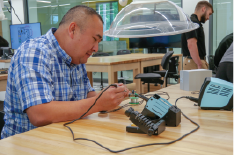 Dr. Xu and Gaus also had lessons on the complexities of aerial autonomy. Dr. Xu explained how to ensure the system does what it is expected to do in a way that is expected through the process of verification and validation. Models of systems can be run through every possibility of what the system is capable of. It's usually done both on a computer and with an actual prototype. Gaus then explained why designing UAS can be difficult, and reviewed the components of drones. Participants were then able to build drones themselves, and fly them outside the MATRIX Lab's Open Air-Land Lab. They agreed that the hands-on experience was invaluable.
"I work in autonomy and AI and some of these topics really come up. We're looking at distributed swarm systems and autonomous vehicles and how that can be part of a larger system so I think it was interesting to see how the UAVs can be flown, but I'm also interested in how you integrate some of those machine learning models into that," said Kevin Mahoney, a U.S. government employee who took the course. "I've had a little bit of exposure - I've always been interested in autonomous flight."
"There's always theory to the course, but this course had a practical portion to it as well. The skills learned could be applied to a hobbyist," said Jim V., a NAWCAD employee who took the course. "I plan to use the essential techniques that were learned from the course for work and home."
Participants also learned the basics of Robot Operating System (ROS), a suite that helps with developing robot software, and how they can use it to add aspects of autonomy to a drone, like motion planning, object detection, and obstacle avoidance.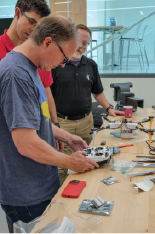 Aerial autonomy is a quickly growing field, thanks in part to cheaper computers and the rise of global positioning systems (GPS). However, the rapid evolution means there are limited guidelines for systems. Continuing education will be important to stay up-to-date as the field advances. The MATRIX Lab does plan to offer short courses in the future on aerial autonomy and other relevant topics. Any PhD interested in teaching a MATRIX Lab short course can reach out to Matt Scassero at mscasser@umd.edu.
"I appreciated the opportunity to develop my own course. It was so rewarding to watch the participants grow as industry professionals, and the experience I gained from teaching them was invaluable," Dr. Xu said.
Published August 17, 2023