Ph.D. student Usman Fiaz competes in Unix 50 challenge at Nokia Bell Labs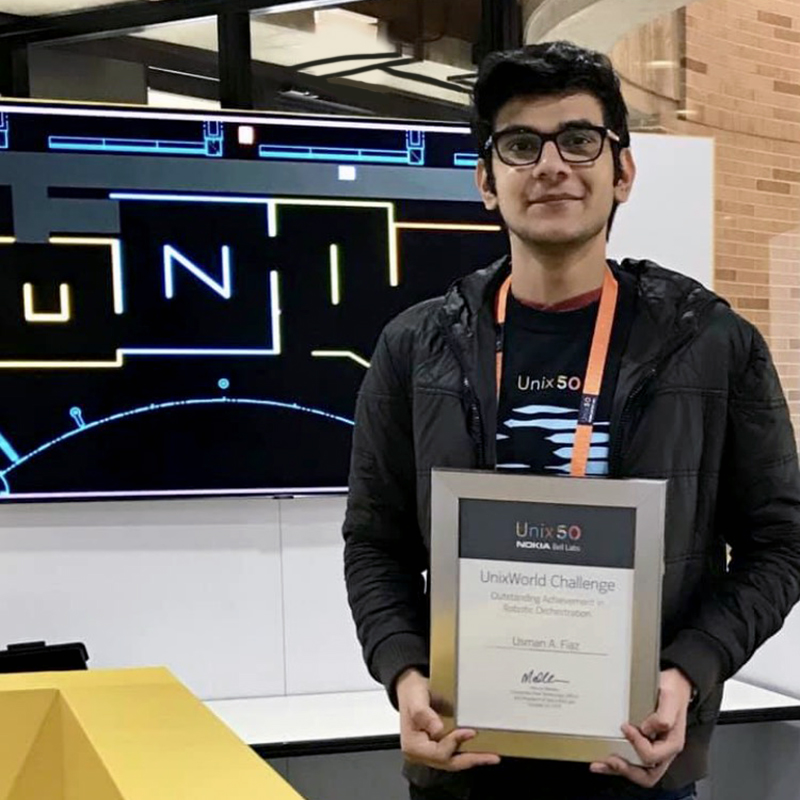 This past summer, Electrical Engineering and ISR Ph.D. student Usman Fiaz completed a research internship at Nokia Bell Labs in Murray Hill, N. J., where he developed novel solutions for precise aerial grasping and investigated fast visual-SLAM algorithms for Nokia drones.
Fiaz returned to Nokia Bell Labs Oct. 22–23 as a student coding competitor during Unix 50, a commemorative event marking Unix's 50th anniversary. The celebration reflected on Unix's past and explored the future of computing. Speakers and panelists included many of the original team that built Unix and designed the C programming language, as well as luminaries in computing and robotics. The event also featured a gallery of Unix artifacts, and numerous other activities drawing on Unix's rich and colorful history at Bell Labs.
One of these was the UnixWorld student coding challenge. Fiaz and 11 other students were placed into four teams of three, where they competed to see who could program a robot to function autonomously in a simulated industrial environment. The students were judged on how well and how quickly they performed a series of tasks in these "industrial zones" within the UnixWorld Challenge arena.
Fiaz's team was the fastest to finish, but lost a few points for accuracy in detecting and localizing objects. Overall, the team finished second and received an award for "Outstanding Achievement in Robotic Orchestration."
"It was a great experience," Fiaz says. "We received our award from Bell Labs President Marcus Weldon in front of the developers of Unix, and got lots of love from the folks at Bell Labs."
Fiaz is advised by Distinguished University Professor John Baras (ECE/ISR) and is affiliated with the Autonomy, Robotics and Cognition Lab (ARC Lab). Fiaz won a University of Maryland Outstanding Graduate Assistant Award in 2018.
Published October 31, 2019