Maryland UAS Experts Join Humanitarian Effort to Rebuild a Devastated Dominica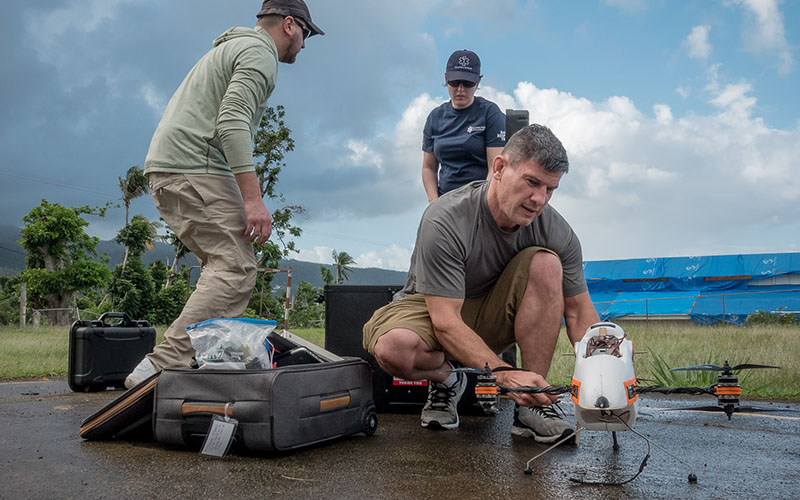 Almost 150 days after the winds of Hurricane Maria dissipated, officials for the island nation of Dominica received a final set of aerial maps that will guide what promises to be a multiyear recovery effort. Gathered by a team from the University of Maryland (UMD), Trinity UAS, and the Canadian nonprofit GlobalMedic, the information will also be made available to the United Nations and other global humanitarian groups.
Around 80 percent of Dominicans were directly affected by Maria's punishing winds and rain in September 2017. Fields of crops were destroyed, power and water systems were knocked out, and more than 90 percent of home and building roofs were damaged. The World Bank estimates losses at $1.3 billion, or 224 percent of the country's GDP.
"The devastation is so sweeping that the only way to answer critical questions like which communities were hardest hit, where roads are inaccessible, and where exposed power lines or damaged oil and gas facilities pose a risk to recovery workers is with drones," said Ryan Henderson, a pilot at UMD's Unmanned Aircraft Systems (UAS) Test Site and part of the six-person team that surveyed Dominica's forests, coasts, and communities in February.
Using cameras mounted on an unmanned aerial vehicle, the team mapped 5,683 acres in two weeks. Henderson and the other pilots flew beyond line of sight, over water, and over people thanks to permissions from Dominican authorities.
"We firmly believe that drones can have a positive impact on recovery efforts in the wake of disasters by providing unprecedented and immediate data for response teams to act upon," said Mike Remaly, who founded Trinity UAS in 2017 with Trevor Strand. "We are grateful for having had the opportunity to work with GlobalMedic and UMD on this humanitarian effort."
Every pixel of the roughly 50 maps created represents 3-5 centimeters of land. In addition to pinpointing damaged areas, that resolution makes it possible to generate accurate 3D models of the country. GlobalMedic will use Pix4D software to create a series of models that Dominica's Lands and Surveys Division can use to measure the volume of debris in a particular area or assess subtle shifts in building structures.
The mission's collection of maps and models builds on a library began during a trip to the island last fall by GlobalMedic's RescUAV team.
"This was the third team that the RescUAV program deployed to Dominica after Hurricane Maria, and we had even more area to cover and less time," said Brett Simms, program coordinator for GlobalMedic. "It was the support and expertise brought by UMD's UAS Test Site and Trinity UAS that allowed us to meet the critical mapping requests and to also provide hundreds of acres in additional maps to support the United Nations Development Programme's recovery efforts. This fantastic collaboration between an NGO, an academic institution, and a private company is a clear example of the great humanitarian work that can be done when we all work together."
But the mission was not without its operational and technical difficulties. February is the rainy season in Dominica, and heavy winds grounded the vehicles for hours at a time. The patchwork of sun and shade created by rolling storms also required the team to frequently adjust camera light settings to avoid capturing over- or under-exposed images.
Batches of maps were regularly downloaded and analyzed at the capital headquarters of Flow—Dominica's largest internet provider and the only place with the upload speeds needed to process the large files—so team members could return to locations with missing or low-resolution images.
Perhaps the largest challenge, though, stemmed from the country's unique terrain of deep, narrow valleys nestled between jagged mountains.
The resolution of aerial images depends in part by how far away the camera is from the land being mapped. To accurately capture roads and homes carved into the mountainside, Henderson and the other pilots had to ascend to altitudes far too high to gather images of the valley.
"We ended up dividing locations into multiple flights, even though the areas were small enough that we could have tackled them at once if the terrain had been flatter," said Henderson. "Some of the villages spanned hundreds of feet of elevation, and we'd have to tackle those villages over multiple flights to get the right resolution."
"The lessons UMD and Trinity UAS learned in extreme environments like Dominica will certainly benefit the design and capabilities of future generations of drones," added Strand.
Published March 8, 2018