Innovative Groups Pitch, Win Share of $5,000 at Inaugural Do Good Robotics Start-up Competition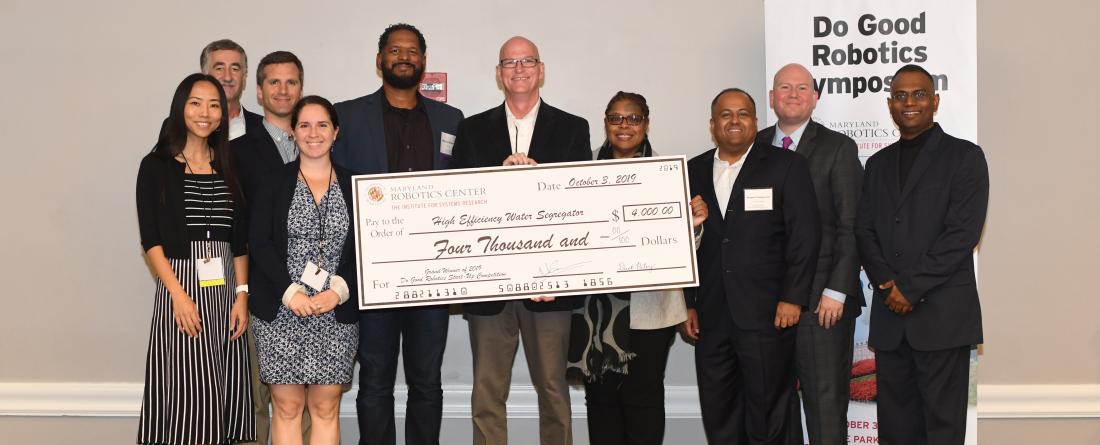 On the evening of Thursday, October 3, 2019, five finalists pitched their projects to an audience and panel of expert judges for the chance to win up to $5,000 at the inaugural Do Good Robotics Start-up Competition. The competition was held as part of the 2019 Do Good Robotics Symposium, hosted by the Maryland Robotics Center, in collaboration with the Do Good Institute. The symposium brought together researchers, practitioners, and groups engaged in multidisciplinary and cross-cutting research and deployment of technologies that benefit our society and planet.
The five finalists included: Hear, here!, High Efficiency Water Segregator, Robotic Coastal Restoration, Sustainable AI, and Walk With Me Prosthetics (see descriptions below). The finalists were chosen from a diverse and competitive pool of applications from across the globe, ranging from intelligent water transportation to e-learning gamification technology. Finalists only had two minutes to pitch their projects and three minutes to answer the judges' questions. Afterwards, the judges deliberated while the finalists spoke to audience members during the evening reception, presenting their posters and vying for attendees' votes, to compete for the audience choice award.
High Efficiency Water Segregator (HEWS), led by James Barbour, took home the $4,000 grand prize. HEWS has created a device that cleans commercial fish farm tanks more effectively, making sustainable aquaculture practices healthier for consumers and more profitable for entrepreneurs.
Walk With Me Prosthetics, led by Danyal Malik, won the $1,000 audience choice award. Winners of the Start-up Competition will also receive access to coaching and other resources through the Do Good Institute.
Winner James Barbour (High Efficiency Water Segregator), highlighted the value of the coaching he received throughout the competition, and the contributions of the Do Good Institute as a catalyst to inspire innovation for the University of Maryland's Do Good campus. Danyal Malik (Walk With Me Prosthetics) shared with the audience his personal inspiration and motivation to continue to do good and change lives through his nonprofit.
Special thanks to the Do Good Robotics Start-up Competition Organizing committee for all their efforts and to the Maryland Robotics Center for sponsoring the evening's prizes.
DO GOOD ROBOTICS START-UP COMPETITION WINNERS AND FINALISTS
Grand Prize Award
High Efficiency Water Segregator (HEWS) (Led by James Barbour): Commercial fish farms reduce the demand for ocean-caught fish. Unfortunately, cleaning costs and occasional disease outbreak limit the profitability and cleanliness of existing farms. These industry deficiencies primarily occur because filtered water is mixed with dirty water within tanks, never allowing any given tank to be fully cleaned. HEWS is developing an autonomous, robotic device to segregate water into filtered and unfiltered sections to significantly improve system cleanliness while reducing overall cleaning costs.
Audience Choice Award
Walk With Me Prosthetics (Led by Danyal Malik): In the developing world, amputees are not only burdened by an inability to walk, but they are also stigmatized within their own communities as a result of their disabilities. There are 40 million amputees in the developing world and only 5 percent of them have access to any form of prosthetic. Walk With Me Prosthetics is a nonprofit start-up that works to provide low-cost prosthetic legs to amputees in developing countries so that they can live better and happier lives.
Finalists
Hear, here! (Led by Katherine August): Globally, people with hearing loss and deafness experience disparate treatment and a limited ability to participate in many settings including courts, healthcare, schools, workplaces, etc. Accommodation technology solutions are expensive, developed in silos, complicated with proprietary interfaces, not interoperable with mainstream communication technologies, and do not overcome hearing-related obstacles. Costs may be onerous and many decide not to provide accommodation. Hear, here! focuses on low-cost open source Sustainable AI Hearing Accessibility solutions using mainstream communications technologies including WiFi, mobile phones, and apps, with distribution bridging the technology gap even for those with limited resources.
Robotic Coastal Restoration (Led by Nathan Melenbrink): Robotic Coastal Restoration will create teams of robots that help protect and repair vulnerable or damaged land, starting with robots that build sand fences and plant dune grass to help protect coasts. Simple measures like these are proven to have a huge effect in building dunes and restoring eroded beaches. The limitations have been a shortage of available labor, and the difficulty (and damaging effect) of using heavy machinery to help. Environmental restoration with smaller, lighter autonomous robots will allow large-scale impact, first on coastlines, and later extending to other forms of land degradation, the global costs of which are estimated at $10 trillion per year.
Sustainable AI (Led by Björn Lütjens): An increasing number of companies invest in carbon offsetting solutions to become CO2-neutral. One of the cheapest carbon offsetting solutions is active reforestation. Reforestation projects, however, historically display an issue of trust, caused by long-term ex-ante billing for potentially never realized CO2 offsets, which drives companies to invest in transparent, but expensive air carbon capture facilities. Reforestation companies could conduct accurate forest inventories (tree count, species, biomass, etc.) to transparently estimate the annual amount of tree-sequestered carbon, but current means of creating rainforest inventories are too inaccurate and/or expensive.
—Story courtesy of the Do Good Institute, School of Public Policy
Published October 17, 2019