Three UMD Undergraduates Win Top Prize at LAHacks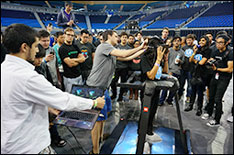 Three undergraduate electrical and computer engineering students from the University of Maryland's A. James Clark School of Engineering won the grand prize at LAHacks, billed as the largest hackathon in the United States to date. Jake Rye, Charlie Hulcher, and Shariq Hashme, who is also completing a degree in computer science, were recognized for their winning hardware hack, "Tred," which allows for a person to be immersed in a virtual reality environment.
About 1,500 people from across the country convened at Pauley Pavilion April 11-13, 2014 for the second annual LAHacks. Hackathons are weekend-long events where students work in teams to produce inventive hardware and applications for computers, mobile devices or the Web—some of which could serve as the basis for new companies. Team Tred of the University of Maryland was awarded the grand prize and received $5,000, a medal for each participant, and the LAHacks Trophy, which is currently on display in the Jeong H. Kim Engineering Building on UMD's College Park campus. They were judged by a panel of 11, including Myspace CEO Chris De Wolfe and Tinder CEO Jonathan Badeen.
Tred accomplishes this by utilizing a slippery surface with just the right amount of friction. Tred provides a virtual reality adventure experience in which a user is secured into a treadmill wearing the Oculus Rift Headset and special shoes, and is immersed into another world. This winning app also used the Arduino micro-controller board and Unity game engine to create this visually intensive, virtual reality experience.
"We are interested in all things that make virtual reality feel more real, and what better way to make that happen [than] by allowing a person to physically walk around their virtual environment," said Rye.
The concept for Tred was "pre-meditated, though we didn't have a name or completed design for it until hacking started," said Hulcher.
"Winning is great, but that is not why we do this—we love doing this. It is what we are passionate about."
Team Tred did not expect to win, although they agreed if they did win, shipping home their hack would be the next priority, "because then we could afford it," said Hulcher. He continued, "it meant so much to know that people recognize our entrepreneurial spirit and the clever, time-pressured engineering that went into our hack."
Rye adds, "Winning is great, but that is not why we do this—we love doing this. It is what we are passionate about."
Jake and Shariq have often teamed up while hacking, or developing a new project; Charlie and Jake have collaborated on projects like this since their days as classmates at Damascus high school. Each team member benefitted from their experience at LAHacks. "At each and every hackathon, I've learned, how to work in a team, how to meet a deadline, how to design and implement a product under serious constraints, how to present without planning, as well as technical skills in a cariety of subjects," said Hulcher. "My most valuable technical skills have been developed at hackathons," added Hashme.
The Clark School of Engineering and the Department of Electrical and Computer Engineering support a culture driven by innovation and entrepreneurship. "It is incredible to attend a University that promotes these creative projects that may or may not be possible. We are privileged to attend a university that is Fearless," said Rye.
The students who participate in hackathons at the University of Maryland, especially those in Terrapin Hackers, are supported by funding from the Department of Electrical and Computer Engineering and the Department of Computer Science, as well as the A. James Clark School of Engineering and the College of Computer, Mathematics, and Natural Sciences. Earlier this month, on April 4-6, the University of Maryland hosted its first hackathon event, Bitcamp, which drew an estimated 750 student participants. Learn more at https://bitca.mp/.
Published April 23, 2014