Robert Briber Named Interim Dean of Clark School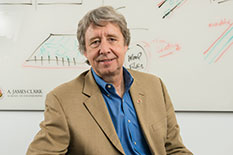 Professor Robert Briber has been named Interim Dean of the University of Maryland's A. James Clark School of Engineering, effective April 1, 2020. Dr. Briber will replace Professor Darryll Pines, who will step down from his role as Dean of the college on March 31, 2020, to prepare for his new role of 34th President of the University of Maryland, College Park.
Dr. Briber brings exceptional administrative experience to his new role of Interim Dean of the Clark School. For the past five years, Dr. Briber has served the college as Associate Dean for Research. Under his leadership the Clark School's research expenditures reached their highest level in history. He has also contributed to a number of strategic partnerships with industry and government, and helped to grow the number Faculty Early Career Development (CAREER) awards put forth by the National Science Foundation (NSF), Defense Advanced Research Projects Agency (DARPA), National Aeronautics and Space Administration (NASA), and other agencies. Additionally, Dr. Briber has overseen major renovation and capital projects in the college, including planning and construction for the E.A. Fernandez IDEA (Innovate, Design and Engineer for America) Factory.
Prior to his current position, Dr. Briber served for 12 years as Chair of the Clark School's Department of Materials Science and Engineering. During his time as Chair, the department's undergraduate enrollment increased by more than 250 percent, research expenditures more than doubled, and for the first time the department reached the top 25 in the U.S. News & World Report graduate rankings. While serving as Chair, Dr. Briber also maintained one of the most active research programs in the Clark School, and was recognized by the university for his outstanding research and teaching with a Distinguished Scholar-Teacher Award.
Dr. Briber has a B.S. in materials science and engineering from Cornell University and a Ph.D. in polymer science and engineering from the University of Massachusetts. He has been the director of the UMD/NIST High Resolution Neutron Scattering Research Program for the past 20 years and is an internationally recognized researcher in the field of materials science with a specialization in polymer physics and the characterization of soft materials. He is a past President of the Neutron Scattering Society of America, a Fellow of the American Physical Society and the Neutron Scattering Society of America, a recipient of the Department of Commerce Bronze Medal, and a past editor of the Journal of Polymer Science.
Published March 5, 2020