Paley presents at NAE 2016 Frontiers of Engineering Symposium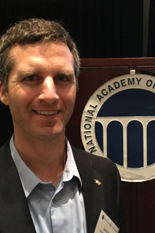 Department of Aerospace Engineering Associate Professor Derek Paley presented at the National Academy of Engineering's (NAE) 2016 Frontiers of Engineering Symposium, held September 19-21 in Irvine, Calif.
Paley served on engineering autonomy panel titled "Extreme Engineering: Extreme Autonomy in Space, Air, Land and Under Water." The session highlighted breakthroughs in advanced decision-making and bioinspired mechanical design that enables new applications for autonomous robotics in space, air, land and water. On the panel with Paley were Lars Blackmore of SpaceX, David Lentink of Stanford University, and Sangbae Kim of MIT.
"It was a really amazing experience," said Paley. "It was a really interesting format. They really put a lot of emphasis on discussion."
Paley discussed how the development of autonomous underwater robots via the Naval Research Laboratory in the late 1990s helped open the field to more work and research, with developments in remotely operated vehicles (ROVs—controlled by tethers on the surface—giving way to unmanned vehicles and the need for greater autonomy and sensing capability for underwater vehicles.
"Demand for autonomy is greater with the underwater environment," says Paley. "Communication methods available to land and air vehicles such as GPS and radio communication, are simply not possible underwater. Just from a physics standpoint it's more challenging."
Paley's work has focused on improving control algorithms for underwater vehicles so they can more efficiently perform ocean sampling, such as determining where to send vehicles to get the most valuable information, and the most efficient way to distribute robots to cover the vast range of the ocean. Paley hopes that solutions to problems like these in underwater vehicles could be applicable to autonomous vehicles in other settings.
Since 1995, the National Academy of Engineering has held the Frontiers of Engineering program with the goal of "bringing together engineers from all engineering disciplines and from industry, universities and federal labs to facilitate cross-disciplinary exchange and promote the transfer of new techniques and approaches across fields in order to sustain and build US innovative capacity."
Other topics at this year's symposium included computer vision, water desalination and cancer treatments. The Academy only allows 83 engineers under the age of 45 to attend, and those wishing to participate must be nominated and apply to attend.
Two other Clark School faculty joined Paley at the symposium. Both Department of Mechanical Engineering Assistant Professor Jin-Oh Hahn and Department of Electrical and Computer Engineering Assistant Professor Jeremy Munday were also selected to attend.
"It was an amazing opportunity to meet my peers across the disciplines in engineering; with people at the same point in their careers," said Paley.
--Thanks to Jennifer Rooks for this story!
Published November 7, 2016