Ming Lin, Vincent Njar elected Fellows of the National Academy of Inventors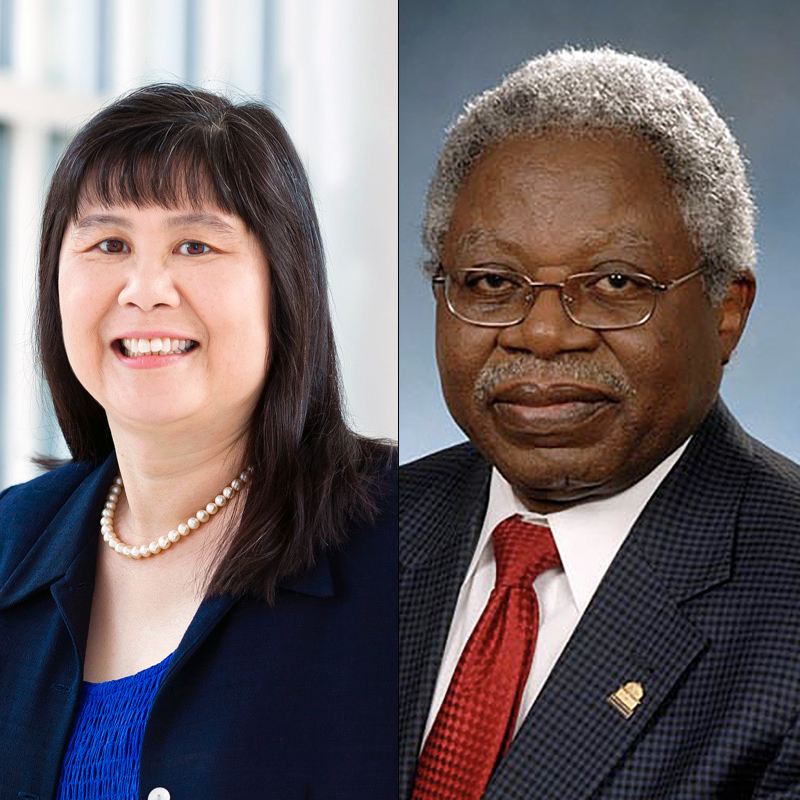 Two faculty with connections to Maryland Engineering have been elected Fellows of the National Academy of Inventors (NAI).
Distinguished University Professor Ming Lin (Computer Science/UMIACS), an affiliate of the Electrical and Computer Engineering Department and the Maryland Robotics Center, was honored for her contributions in virtual reality, computer graphics and robotics. Lin's research focuses on multimodal interaction, physically based animations and simulations, as well as algorithmic robotics and their use in physical and virtual environments. Her work has extensive applications in medical simulations, cancer screening, urban computing, as well as supporting city-scale planning, human-centric computing, intelligent transportation and traffic management.
Vincent C.O. Njar, a Distinguished University Professor in the Department of Pharmacology at the University of Maryland, Baltimore, and a member of the Institute for Bioscience and Biotechnology Research (IBBR)—a Clark School research partner—also was named to the NAI Fellows Class of 2021. Njar has a longstanding interest in the rational discovery and development of small molecules as anti-cancer agents. He is a leading medicinal chemist and oncopharmacologist who has made significant discoveries in the development of novel small molecules with potential for the treatments of a variety of cancers, especially breast, prostate and pancreatic cancers.
The two faculty have joined the ranks of some of the nation's most prestigious and creative academic inventors, alongside nine other University of Maryland NAI Fellows: John Baras (ECE/ISR), 2015; Robert Fischell (BIOE/Fischell Institute), 2015; Ben Shneiderman (CS/ISR), 2015; Rita Colwell (Cell Biology & Molecular Genetics/UMIACS), 2016; former UMD President and NAE President C.D. Mote, Jr. (ME), 2017; Ray Liu (ECE), 2019; Min Wu (ECE/ISR), 2019; Rama Chellappa (ECE), 2020; and former UMD Vice President for Research Laurie Locascio, 2020.
"I am very honored to be elected as a fellow of the National Academy of Inventors this year," Lin said. "We've constantly been working on scientific problems where the solutions will have considerable social impact. That's important for me—I am hoping through research, teaching and advising that I can make some difference."
The NAI Fellows Program highlights academic inventors who have demonstrated a spirit of innovation in creating or facilitating outstanding inventions that have made a tangible impact on the quality of life, economic development and the welfare of society. Election to NAI Fellow is the highest professional distinction accorded solely to academic inventors.
The 2021 NAI Fellow class hails from 116 research universities and governmental and nonprofit research institutes worldwide. They collectively hold more than 4,800 issued U.S. patents. Among the new class of Fellows are 33 members of the National Academies of Sciences, Engineering, and Medicine, and three Nobel Laureates, as well as other honors and distinctions.
— Thank you to Abby Robinson and Maryland Today for parts of this story.
Published December 7, 2021