Hyperdimensional computer theory featured in Voice of America video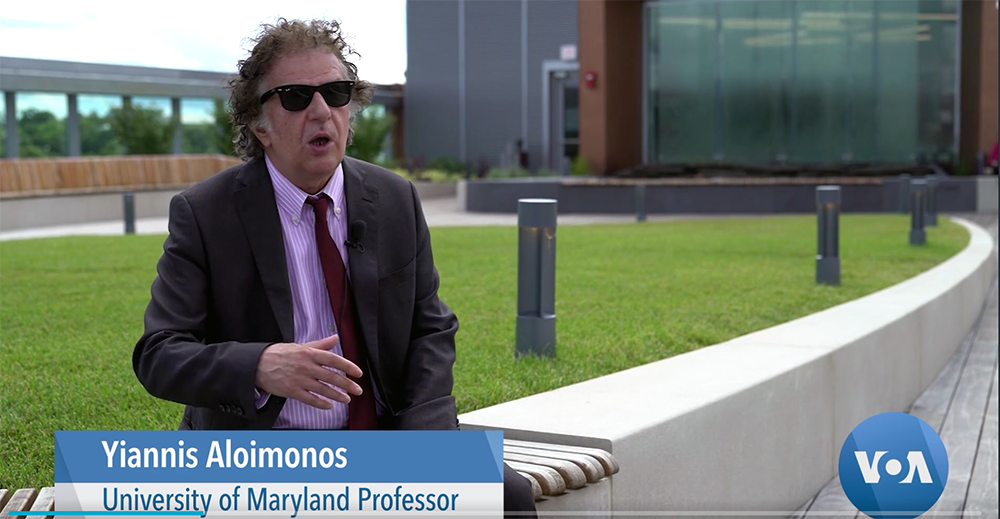 A new Voice of America (VOA) video features the University of Maryland authors of a recent Science Robotics paper on hyperdimensional computing theory. The video explores the work of Computer Science Ph.D. students Anton Mitrokhin and Peter Sutor, Jr.; Cornelia Fermüller, an associate research scientist with the University of Maryland Institute for Advanced Computer Studies; and Computer Science Professor Yiannis Aloimonos.
Integration is the most important challenge facing the robotics field. A robot's sensors and the actuators that move it are separate systems, linked together by a central learning mechanism that infers a needed action given sensor data, or vice versa. The current cumbersome three-part AI system—each part speaking its own language—is a slow way to get robots to accomplish sensorimotor tasks.
The next step in robotics will be to integrate a robot's perceptions with its motor capabilities. This fusion, known as "active perception," would provide a more efficient and faster way for the robot to complete tasks. The paper marks the first time that perception and action have been integrated.
The theory has broad implications for improving the way robots perceive the world and act on what they see. Robots whose operating systems are based on hyperdimensional binary vectors (HBVs) could form "memories" that could fundamentally improve how they translate what they sense into what they do.
The video originally appeared on the VOA's Russian Service channel for a segment of its technology-oriented "Details" show. It was subsequently translated to English and now also appears on VOA's Central News Service page.
Published July 2, 2019