Clark School student teams sweep MAV competition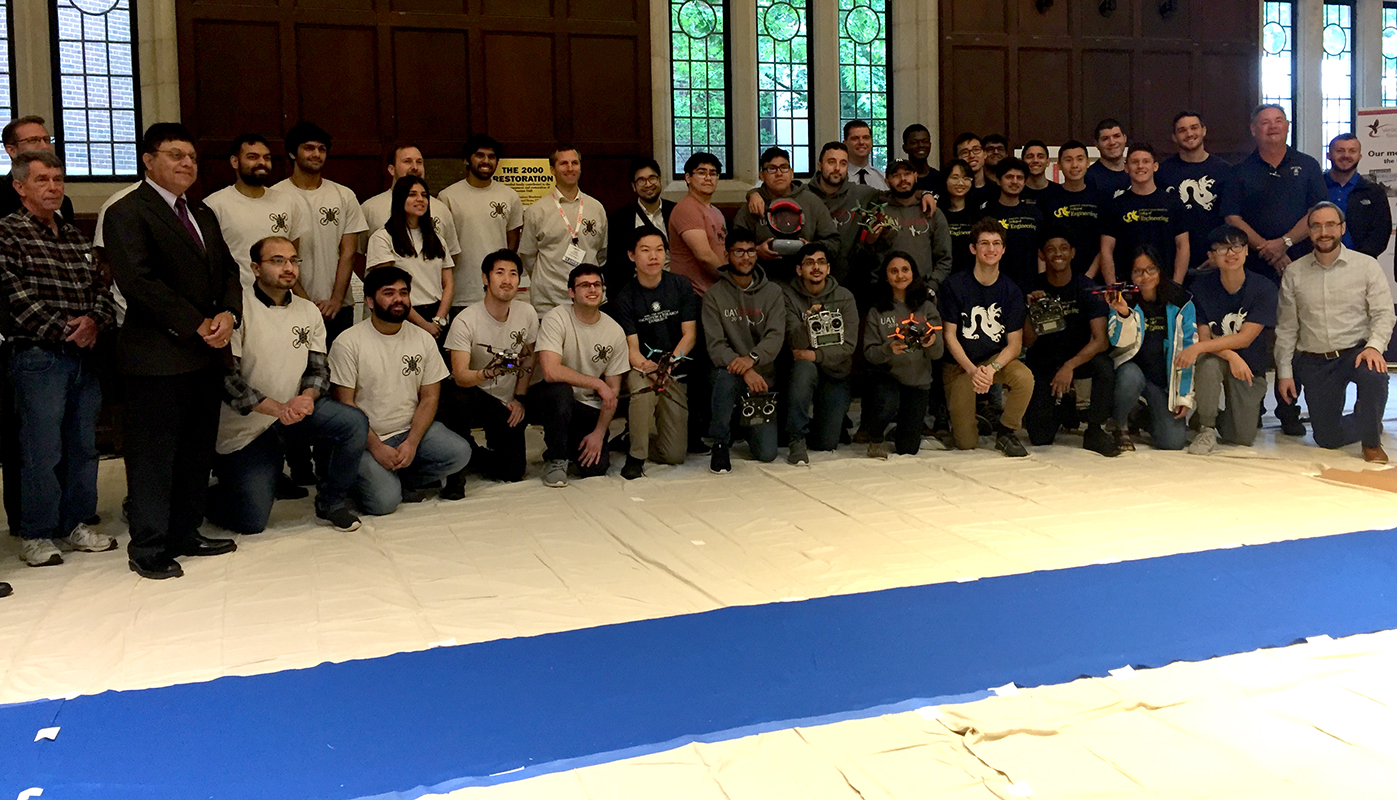 Clark School student teams took first place in both the manual and autonomous categories of the 7th Annual Micro Air Vehicle Student Challenge, held at the Vertical Flight Society Annual Forum in Philadelphia on May 13. This is an electric-powered, vertical take-off and landing (VTOL) micro air vehicle (MAV) competition that encourages student interest in autonomous/unmanned aircraft technology as well as small air vehicle design and fabrication.
The theme of the event this year was "Washington's Fight (or Flight) for Liberty," a reimagining of how George Washington could have gotten supplies to the troops at Valley Forge if he'd had an MAV. Obstacles for the MAV to navigate—while carrying payloads representing food supplies and Thomas Paine's "The American Crisis" pamphlet—included "the Delaware River," a six-foot high obstacle that needed to be flown over at a specific point and a second obstacle the MAV needed to fly under less than two feet off the ground.
The winning Clark School entry in the Manual Flight category was piloted by freshman students in the university's First-Year Innovation and Research Experience (FIRE) Autonomous Unmanned Systems Stream (AUS Stream). They were advised by Assistant Clinical Professor Derrick Yeo (FIRE/AE), and Distinguished University Professor Inderjit Chopra (AE).
The FIRE program provides freshmen students with authentic research experiences, broad mentorship and degree credits to enhance their academic success and personal development, while building a strong sense of community and providing professional opportunity. The students in the AUS Stream address research challenges in autonomous vehicle mission planning, platform-level sense and avoidance capabilities, cooperative control of multiple autonomous vehicles, and managing interactions between humans and autonomous systems.
The winner in the Fully Autonomous category was the Autonomous Micro Air Vehicle (AMAV) Team, advised by Postdoctoral Researcher Artur Wolek (AE/ISR) and Professor Derek Paley (AE/ISR). Paley is also the faculty director of the FIRE AUS Stream. This team consists of undergraduate Aerospace Engineering students and graduate students in the Masters of Engineering in Robotics program.
The AMAV Team would like to acknowledge the generous support of the A. James Clark School of Engineering, the Department of Aerospace Engineering, and the Maryland Robotics Center, along with donations from Heron Systems, Inc., and Leidos.
Manual FIRE and AUS Stream Team:
Qingwen Wei Aerospace Engineering, Freshman
Matthew Eye Computer Science, Freshman
Austin Long Computer Science, Freshman
Yorik Shah Aerospace Engineering, Freshman
David Charendoff Mechanical Engineering, Freshman
Richard Zhang Mathematics, Freshman
Autonomous AMAV Team:
Krishna Bhatu Robotics Engineering, Masters
Thomas Brosh Aerospace Engineering, Freshman
Jerrar Bukhari Robotics Engineering, Masters
Adam Del Colliano Aerospace Engineering, Freshman
Alex Edwards Aerospace Engineering, Junior
Kamakshi Jain Robotics Engineering, Masters
Saimouli Katragadda Robotics Engineering, Masters
Zachary Lacey Aerospace Engineering, Junior
Abhinav Modi Robotics Engineering, Masters
Ian Moss Aerospace Engineering, Junior
Kapil Rawal Robotics Engineering, Masters
Rohan Singh Robotics Engineering, Masters
Qingwen Wei Aerospace Engineering, Freshman
Published May 20, 2019