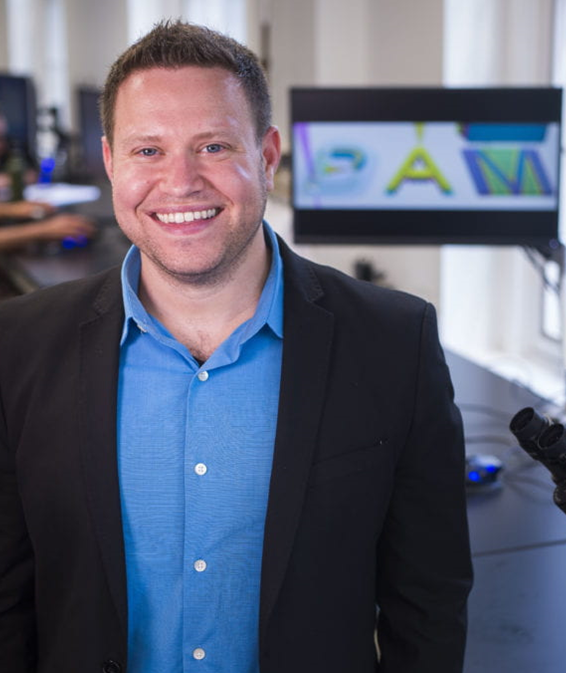 Sochol, Ryan D.
Associate Professor

Mechanical Engineering
Fischell Department of Bioengineering
Maryland Robotics Center
The Institute for Systems Research

2147 Glenn L. Martin Hall, Building 088

BACKGROUND
Prof. Sochol's Bioinspired Advanced Manufacturing (BAM) Laboratory creates micro/nanoscale additive manufacturing (or "3D printing") strategies to solve mechanically and physically complex engineering challenges, with a focus on biomedical applications (including those enabled by soft robotics).  Dr. Sochol is an affiliate faculty member of the Fischell Department of Bioengineering, a Fischell Institute Fellow of the Robert E. Fischell Institute for Biomedical Devices, an executive committee member of the Maryland Robotics Center, and an affiliate of the Institute for Systems Research.  Dr. Sochol currently serves as Co-President of the Mid-Atlantic Micro/Nano Alliance (MAMNA).
EDUCATION
Ph.D., University of California, Berkeley (2011)
M.S., University of California, Berkeley (2009)
B.S., Northwestern University (2006)
POSTDOCTORAL TRAINING
NIH Fellow within the Harvard-MIT Division of Health Sciences & Technology, Harvard Medical School, and Brigham & Women's Hospital
Director/Founder of the Micro Mechanical Methods for Biology (M3B) Laboratory Program within the Berkeley Sensor & Actuator Center at the University of California, Berkeley
Visiting Postdoctoral Fellow within the Institute of Industrial Science at the University of Tokyo
HONORS AND AWARDS
Micro/Nanoscale Additive Manufacturing ("3D printing")
Advanced Manufacturing & Micro/nanomanufacturing
Soft Robotics / Microrobotics / Surgical Robotics
3D Printing-Enabled Biomedical Technologies
Cell Mechanobiology & Physicobiology
Integrated Fluidic Circuitry
3D Microelectronics
Energetics
Journal Covers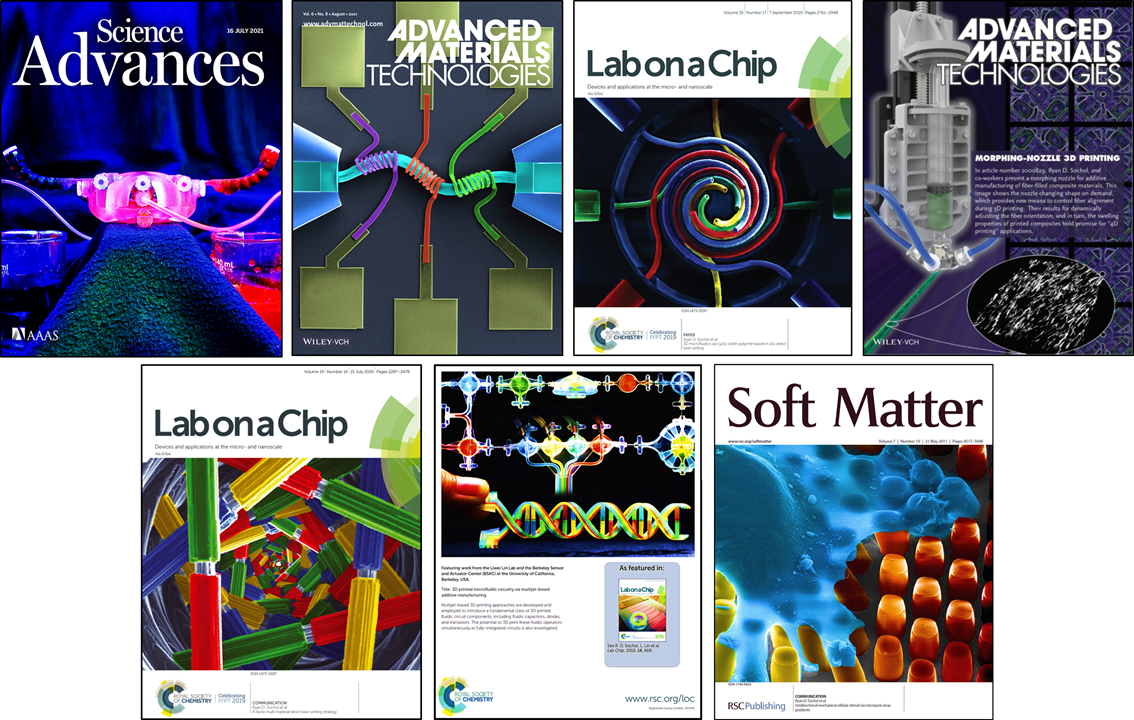 Selected Journal Publications
Selected Conference Publications
The MRC Graduate Assistantship Program is open to mid-career UMD Ph.D. students with Maryland Robotics Center advisors.
Achievement opens the door for new advances in soft robotics.
MRC Welcomes Four New Faculty Members: Dr. Bill Regli, Dr. Dinesh Manocha ,Dr. Yasser Shoukry, and Dr. Ryan Sochol.