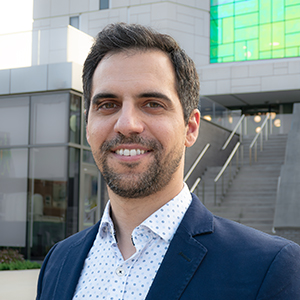 Kontoudis, George P.
Postdoc Research Associate

Maryland Robotics Center

3242 Kim Engineering, University of Maryland, College Park, MD 20742

George P. Kontoudis is a Postdoctoral Research Associate at the University of Maryland working with Michael Otte. He obtained a Ph.D. in Electrical Engineering at Virginia Tech in 2021 under the supervision of Daniel J. Stilwell. He completed his M.S. in Mechanical Engineering at Virginia Tech in 2018. He received a Diploma in Mechanical Engineering at the National Technical University of Athens in 2016 and he holds a B.S. in Mechanical Engineering from University of West Attica.
Dr. Kontoudis research interests lie in the integration of robotics, control theory, and machine learning. In particular, he is interested in how learning algorithms and control theory can enable multi-agent systems to efficiently collaborate with minimal information exchange for robotic navigation, exploration, and manipulation tasks. 
Instructor, ENAE488O/788O Introduction to Autonomous Multi-Robot Swarms - Spring 2023

Project Mentor, ENAE100 The Aerospace Engineering Profession - Fall 2023