You Can Make It at Maryland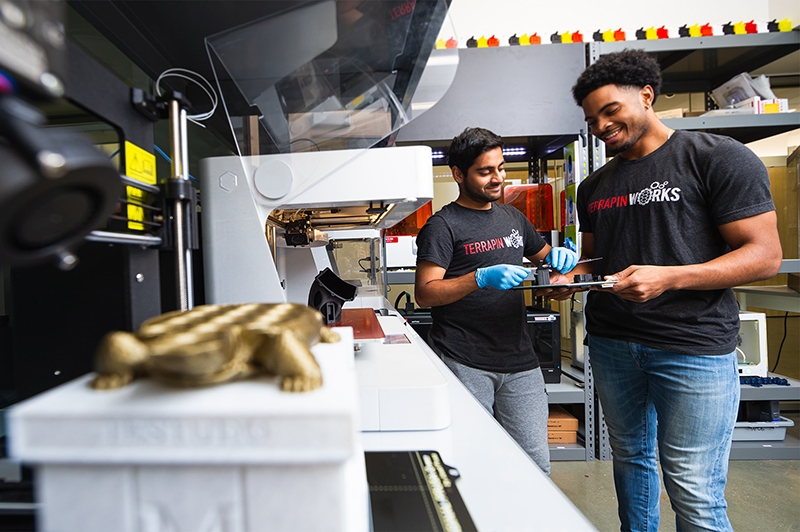 From the furniture in a campus café and a replica of a Baroque marble statue, the University of Maryland community can go forth to every corner of campus to take its futuristic ideas and make them into a finely wrought plastic, wood, or metal reality.
Seventeen "makerspaces" across UMD feature cutting-edge design software and technology like 3D printers and laser cutters to quickly and efficiently build new objects—facilities that Make: magazine recently highlighted in naming the university one of the nation's "best maker schools."
While makerspaces are a necessary resource for students completing assignments and building resumes in some STEM disciplines, every Terp can benefit from taking a "thing you've dreamed up on the computer to something that's in the real world," said Jim Zahniser, assistant dean for strategic operations and information technology at Maryland Engineering.
Matthew Kirschenbaum, professor of English and digital studies and co-founder of the BookLab makerspace, said engaging with physical objects is a way to get students of all disciplines, including the arts, to think differently.
"Our students spend a lot of time reading books. It's also a good thing for them to learn a little about how books are made," he said. "It's creative, it's experimental, it's both retrospective and future-oriented."
Here's a rundown of some the spaces offered at UMD.
Advanced Fabrication Lab (2123 A. James Clark Hall)
The centerpiece of the Clark School's Terrapin Works facilities, this lab has more than $2 million worth of equipment to support projects from beginning to end. The lab is divided into three spaces: a design studio for scanning and computer-aided design prototypes, a mechanical prototyping room with advanced manufacturing technology, and an electrical prototyping room for circuit board fabrication and other electronics work.
Architecture, Planning and Preservation FabLab (0110 Architecture building)
Modeling is a key part of today's training to make tomorrow's cities, and the FabLab enables students and faculty to make digital and physical 3D models of urban sites, landscapes, buildings, and more. One section is devoted to creating model components out of wood, plastics, and composite materials, and another has rapid machines like 3D printers and laser cutters.
BookLab (3248 Tawes Hall)
Tools in this printing studio span both traditional book materials and new digital technology, from a hand press modeled after Gutenburg's version to wearable and embeddable digital sensors. Terps can try their hands at bookbinding and paper-making and put together a one-of-a-kind paperback or zine.
Instructional Fabrication Lab (1119 A. James Clark Hall)
If you are new to the makerspace world and its collection of drills, mills, and saws, this is one good place to start. The IFL provides hands-on education on machining to any UMD student or faculty member, and offers work space and tools for those who have gone through lab-provided safety training.
Keystone Woodshop (1212 J.M. Patterson Building)
Why buy a new table when you can make one yourself? The woodshop has state-of-the-art methods available to tackle decidedly retro materials, and no prior experience is necessary to start training and working on your next family heirloom.
Singh Sandbox (1231 Brendan Iribe Center for Computer Science and Engineering)
This 5,400-square-foot makerspace lives up to its name with enough room and toys to expand any imagination. Free to anyone with a UMD ID card, Sandbox has training modules through ELMS and Canvas, and individual studios dedicated to electronics, crafting and sewing, digital media creation, laser cutting and more. About 25 students volunteer here as mentors.
The Clarice Scene Shop (1702 Clarice Smith Performing Arts Center)
The show truly goes at the Scene Shop, where costumes, props, lighting and more are produced through the joint efforts of hundreds of students, faculty and staff to support campus performances. Although no public workspace is available, this shop makes an impact throughout the community by sharing materials and expertise across campus and even creating cloth masks for Inova Fairfax hospital.
STEM Library Makerspace (1403 William E. Kirwan Hall)
Training is available here on 3D printing and laser cutting, and its "Augmented Reality Sandbox" can model topographic maps and explore hydrologic systems. The John and Stella Graves Makerspace in McKeldin Library will be fully merged here by spring 2022, although equipment to digitize legacy media like VHS and audiocassettes, in addition to the self-service podcast and voice recording lab, are still in Terrapin Learning Commons on the second floor of McKeldin.
This story originally appeared in Maryland Today.
Published November 5, 2021