Shuttle service between Kim Building and SMART Building/MATRIX Lab now operating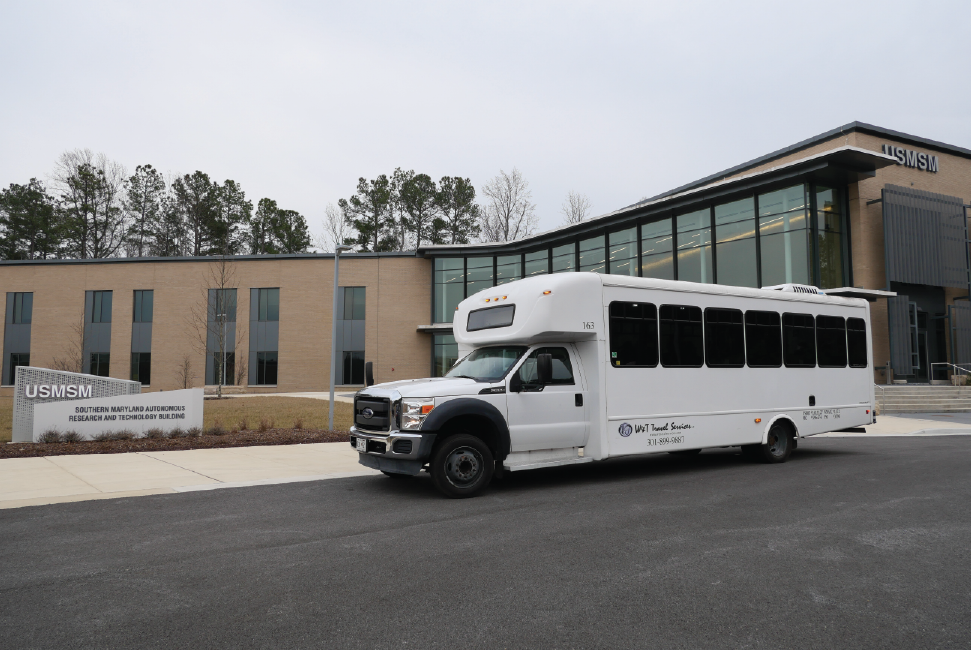 A free shuttle service between the Kim Building on the University of Maryland campus in College Park and the SMART Building/MATRIX Lab in California, Md. runs every other week on Wednesdays. This convenient service connects College Park faculty and students with the unique research, education and meeting facilities on the USMSM campus in St. Mary's County. The shuttle also makes it convenient for UMD researchers to meet with partners based in southern Maryland at UROC, the St. Mary's County Airport, NAWCAD, and other federal facilities.
The shuttle has a capacity of 30 and includes WiFi service so riders will be able to stay connected to work during the trip. An easy online signup is required to secure a place on any shuttle run, and riders are able to sign up until 6 p.m. the night before each run. The shuttle leaves College Park from the road between the Kim Building and Clark Hall at 8 a.m., arriving at the SMART Building around 9:45 a.m. It heads back to College Park from the SMART Building at 4 p.m., arriving at the Kim Building around 5:45 p.m.
In addition to its regular schedule, the shuttle also will be made available for special meetings and workshops being held at the SMART Building.
Riders will be able to take advantage of the opportunities afforded by the MATRIX Lab's facilities—its Open Air Land Lab, Fluid Dynamics Tank, and Anechoic Chamber, as well as the SMART Building's Electrical and Mechanical Engineering Labs, 3D Printing Workshop, and wind tunnel. The southern Maryland ecosystem connects government agencies, academic institutions, and industry partners focused on autonomy and uncrewed systems. The campus is close to UMD's UAS Research and Operations Center (UROC), whose expert staff can help with testing and evaluation of systems researched and developed in the SMART Building and MATRIX Lab.
The shuttle is just one option for visiting the facilities of southern Maryland. Visitors are always welcome to come to the SMART Building/MATRIX Lab on their own at any time. For those driving on their own, the SMART Building address is 44219 Airport Rd, California, MD 20619. If you'd like to sign up to ride the shuttle, click here.
Published December 14, 2022