Paley Awarded Willis H. Young Jr. Faculty Fellowship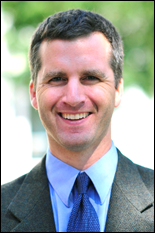 Aerospace Engineering Associate Professor Derek A. Paley was awarded the Willis H. Young Jr. Faculty Fellowship and appointed to a three-year term as the Willis H. Young Jr. Professor of Aerospace Engineering Education. The Willis H. Young Jr. Faculty Fellowship is awarded to a tenured faculty member in aerospace engineering with outstanding contributions to aerospace engineering instruction and education at both the undergraduate and graduate levels.
Paley is the founding director of the Collective Dynamics and Control Laboratory a member of the Alfred Gessow Rotorcraft Center, the Maryland Robotics Center, the Neuroscience and Cognitive Science Program, the Burgers Program for Fluid Dynamics, and the Applied Mathematics, Statistics, and Scientific Computation Program.
Paley received a B.S. in Applied Physics from Yale University in 1997 and a Ph.D. in Mechanical and Aerospace Engineering from Princeton University in 2007. He was recently awarded the Presidential Early Career Award for Scientists and Engineers (PECASE) by the United States Government, and he received the National Science Foundation CAREER award in 2010.
Paley's research interests are in the area of dynamics and control, including cooperative control of autonomous vehicles and spatial modeling of biological groups, and he co-authored Engineering Dynamics: A Comprehensive Introduction, a text book used in by many high-ranking colleges in their engineering programs. At the University of Maryland he teaches introductory engineering dynamics, advanced dynamics, aircraft flight dynamics and control, and nonlinear control.
The Willis H. Young Jr. Faculty Fellowship consists of an engraved Glenn L. Martin Medal and $5000/year in additional resources to be used for travel, equipment, or other needs. The award will be formally presented during a ceremony in the spring of 2014.
To learn more about Paley and his research, visit his faculty webpage or the Collective Dynamics and Control Laboratory.
Published January 6, 2014