Leonard conducts underwater robotics research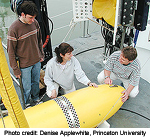 ISR alum
Naomi Leonard,
a full professor in Princeton University's Mechanical and Aerospace Engineering Department, is making waves with underwater robotics research. This summer her team launched fleets of autonomous underwater vehicles into the Pacific Ocean at Monterey Bay to test the vehicles' ability to move in formation through the water while mapping ocean currents and tracking marine microorganisms. The work was sponsored by the Office of Naval Research and could yield benefits for a wide range of fields from climate and ecological research to military surveillance.
Leonard writes, "We ran experiments with groups of gliders including rigid and deforming (contracting) formations, and with gliders coordinated with other sensor platforms (towed sensor array from ship and propeller-driven AUV) for evaluating our ability to estimate gradients in temperature, salinity, etc. The gliders themselves were truly remarkable; they were almost perfectly reliable and they stayed in the water for weeks at a time. It was an amazing demonstration of the power of feedback control to see the really autonomous behavior of the gliders."
Leonard is a 1994 ISR-affiliated Electrical Engineering Ph.D. Her advisor was Professor P.S. Krishnaprasad (ECE/ISR).
| Read more in this feature story from the Princeton Weekly Bulletin | Research results at Dr. Leonard's Autonomous Ocean Sampling Network page |
Published September 1, 2003