Bruck Named SEM Fellow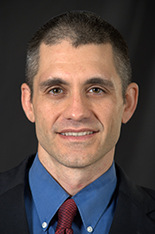 Department of Mechanical Engineering Professor Hugh Bruck was named a Society for Experimental Mechanics (SEM) fellow, one of the highest honors bestowed to SEM members.
Bruck, who is also the director of graduate studies and associate chair of academic affairs, was recognized for his "contributions to the field of experimental mechanics through development and application of innovative methods combining full-field experimental measurements over multiple length scales with theoretical formulations to increase understanding of material behavior."
Bruck received his B.S. and M.S. degrees from the University of South Carolina in 1988 and 1989, respectively. He received his Ph.D. from the California Institute of Technology in 1994. He received numerous honors and awards including, Best Paper Award at the 2010 ASME Mechanisms and Robotics conference, and he is also an American Society of Mechanical Engineers (ASME) fellow.
According to Bruck, his current research interests include the "development and characterization of nanostructured and multifunctional materials for robotics and energy systems." Together with Assistant Professor Miao Yu and Professor Elisabeth Smela, Bruck is also working on a project to develop sensory abilities in robots that could allow them to respond better to patient needs, such as moving them in and out of bed.
Bruck joins Department of Mechanical Engineering SEM fellows, faculty members James Dally, William Fourney, Bongtae Han and R.J. Sanford.
SEM, originally called The Society for Experimental Stress Analysis, was founded in 1943 as a nonprofit scientific and educational organization with the goal of "further the knowledge of stress and strain analysis and related technologies." SEM members have interests in modeling and analysis, strain measurement and structural testing.
For more information on Dr. Hugh Bruck or SEM, please visit their websites.
Published June 25, 2014