Brin Family Prize Celebrates Student Innovation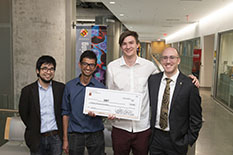 On May 10, 2018, three teams of students were awarded prizes for projects that combined innovative synergies of software and hardware to advance drone applications. The contest, which was open to University of Maryland faculty, staff and students, called for proficiencies in computer science and aerospace. Contest participants were asked to describe their project's merits (for example, the project's main objective, technical aspects and how it might benefit society) and what the personal and professional impact of winning the prize would mean to them.
Team QBIT won the first prize of $20,000 for developing a Quadrotor Biplane Tail-Sitter, an 8-pound vehicle that can deliver a 1-pound payload. Possible applications include package delivery, emergency and disaster relief, as well as inspection and monitoring.
Team PRG FLYT received $15,000 as a runner-up for developing software that works at the interface between the flight controller and the user's remote controller, providing a modular framework for a quadcopter flying experience via semi-supervised control. Software features include the ability to go through unknown gaps and track multiple moving objects.
Team Autonomous Drone Racing was also a runner-up and received $15,000. The team was recognized for developing unique aerodynamic capabilities for a drone designed to optimize speed.
The winners were announced by Sam Brin '09. Projects were evaluated and judged by Ming Lin, chair of UMD's computer science department, Norman Wereley, chair of UMD's aerospace engineering department, and Matt Scassero, director UMD's Unmanned Aircraft Systems Test Site.
Published May 20, 2018