What Do You Get When You Combine Kids, Cockroaches and Robots?
High School Students to Correlate Roach Neurophysiology and Robotic Sensing Technologies During Clark School Workshop
MEDIA ADVISORY July 23, 2012
CONTACT:
Melissa Corley
301 405 6501
mcorley@umd.edu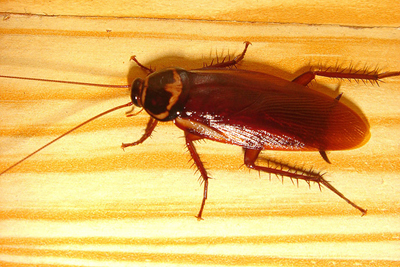 WHAT: "Robots and Roaches: Engineering applications and bio-inspired designs." High school students will participate in a one-day, university-level workshop on robotics and neurophysiology in which they will conduct experiments using cockroaches in the Clark School of Engineering's Controls Instructional Laboratory. The goal of the workshop is to look at how animals sense their environment and relate that to how robots can do the same. Students will examine the electrical signals and neurons in a cockroach's leg using SpikerBox kits (BackyardBrains.com) and then do analogous experiments with robotics. Finally, they will connect the cockroach leg to a robotic apparatus and use one to control the other and vice versa. The workshop is a Leadership Enhancement, Application and Design Academy run by the Clark School's Women in Engineering Program.

WHO: About 20 9th- to 12th-grade students from Maryland and Washington, D.C., will take part in the workshop, which will be led by Derek Paley, Clark School associate professor of aerospace engineering and the Institute for Systems Research, and Amanda Chicoli, a graduate student in neuroscience and cognitive science.

WHEN: Reporters and photographers are welcome to attend any portion of the workshop, which will run from 9 a.m. to 4 p.m. The students will be in the Controls Lab between 9:45 a.m. and 12 p.m. and also between 1:15 and 3:45 p.m. on Thursday, July 26.

WHERE: A. James Clark School of Engineering
University of Maryland, College Park, MD 20742  
Directions to Parking: http://www.eng.umd.edu/visitus/visitus_directions.html (CALL AHEAD for a parking code)

WHY: Hands-on activities are important in order to interest and motivate students to study engineering and the other STEM disciplines. STEM stands for science, technology, engineering and mathematics. This workshop will show the students how robotics can incorporate concepts of animal neurophysiology.


More Information:
http://www.wie.umd.edu/precollege/lead.html
About the A. James Clark School of Engineering
The University of Maryland's A. James Clark School of Engineering is a premier program, ranked among the top 20 in the world. Located just a few miles from Washington, D.C., the Clark School is at the center of a constellation of high-tech companies and federal laboratories, offering students and faculty access to unique professional opportunities.
Our broad spectrum of academic programs, including the world's only accredited undergraduate fire protection engineering program, is complemented by a vibrant entrepreneurial ecosystem, early hands-on educational experiences, and participation in national and international competitions.
The Clark School is leading research advancements in aerospace, bioengineering, robotics, nanotechnology, disaster resilience, energy and sustainability, and cybersecurity. From the universal product code to satellite radio, SMS text messaging to the implantable insulin pump, our students, faculty, and alumni are engineering life-changing innovations for millions. Learn more at www.eng.umd.edu.