UMD Online Engineering Programs Continue to Climb in Standings
U.S. News and World Report Releases 2015 Rankings
FOR IMMEDIATE RELEASE January 7, 2015
CONTACT:
Elise Carbonaro
301 405 6501
ecarbo@umd.edu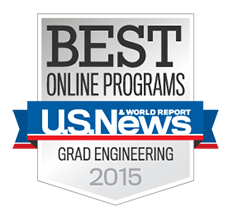 COLLEGE PARK, Md. – The University of Maryland's A. James Clark School of Engineering has been ranked No. 13 of the 2015 Best Online Engineering Programs rankings, released today by U.S. News and World Report. The Clark School's online engineering programs were ranked No. 14 in 2014.
Designed for working engineers and technical professionals, the Master of Engineering and Graduate Certificate in Engineering online programs offer focuses in eight academic disciplines: Bioengineering, Cybersecurity, Energetic Concepts, Fire Protection, Nuclear, Project Management, Reliability, and Sustainable Energy.
The Clark School applies the same admission requirements and education outcomes to online learning as on-campus learning. Online classes allow students worldwide to access lecture material at their convenience and benefit from the knowledge and expertise of the faculty from the Clark School.

The Clark School's advanced distance learning technologies and the Seigel Learning Center have been recognized and featured in national publications, including Nature.
According to U.S. News and World Report, the annual Best Online Engineering Program ranking is determined based on data from the following categories: admissions selectivity, faculty credentials and training, student engagement, student services and technology, and peer reputation.
For more information about the Clark School distance education programs, visit www.advancedengineering.umd.edu. To see the U.S. News and World Report complete rankings, visit http://www.usnews.com/education/online-education
About the A. James Clark School of Engineering
The University of Maryland's A. James Clark School of Engineering is a premier program, ranked among the top 20 in the world. Located just a few miles from Washington, D.C., the Clark School is at the center of a constellation of high-tech companies and federal laboratories, offering students and faculty access to unique professional opportunities.
Our broad spectrum of academic programs, including the world's only accredited undergraduate fire protection engineering program, is complemented by a vibrant entrepreneurial ecosystem, early hands-on educational experiences, and participation in national and international competitions.
The Clark School is leading research advancements in aerospace, bioengineering, robotics, nanotechnology, disaster resilience, energy and sustainability, and cybersecurity. From the universal product code to satellite radio, SMS text messaging to the implantable insulin pump, our students, faculty, and alumni are engineering life-changing innovations for millions. Learn more at www.eng.umd.edu.