Five hours of Maryland robotics on FOX 45 Baltimore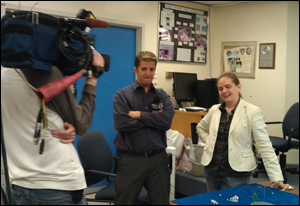 Assistant Professor Sarah Bergbreiter prepares for her TV interview. Photo credit: M. Corley.
TV station FOX 45 Baltimore stopped by the Neutral Buoyancy Research Facility from 5 am to 10 am on Sept. 23 to do a live remote. Ten segments later, the reporter had covered our space robots, underwater robots, miniature robots and robots that move like animals.
Thanks to our colleague Missy Corley of the Clark School for being on hand the entire morning and for taking some photos of the action.
And thanks to our Maryland Robotics Center faculty and students for getting up so early to do awesome demonstrations and interviews.
Additional film aired at 10 pm.
| Watch the video at the Fox 45 web site |
Related Articles:
UMD Microrobotic Work Featured in IEEE Spectrum
Robo Raven on Display at a Major International Design Exhibit in France
UAE students, Northrop Grumman engineers tour robotics laboratories
Gupta research group wins three awards at ASME IDETC/CIE
Maryland Robotics Center featured on live TV broadcast
Robotics featured in Sept. 30 issue of The Diamondback
Maryland students impress at National Robotics Week
S.K. Gupta's group pioneers new development in drive mechanisms for ornithopters
Maryland Robotics Center sponsors grad student project on robotics in farming
These are tiny robots. And they are awesome.

September 23, 2011
Prev
Next