Maryland Robotics Center sponsors grad student project on robotics in farming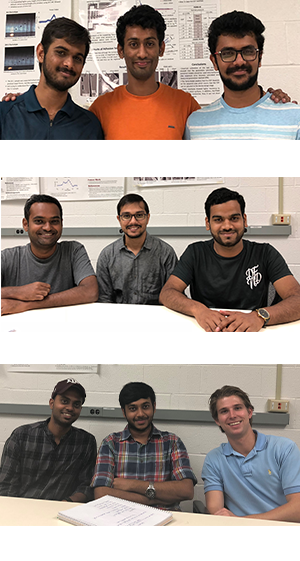 From Left - Innovation Group: Harsh Kakashaniya, Prasanna Marudhu Balasubramanian and Charan Karthikeyan, Parthasarathy Vasanthi
From Left - Agriculture Group: Tamil Arasu Shamnugam, Nikhil Mehra and Indushekar Singh
From Left - Aquaculture Group: Jagadish Nischal Nagireddi, Sarvesh Thakur and Ethan Quist
The Maryland Robotics Center is sponsoring a semester-long graduate student project focused on designing robotic solutions that could assist Maryland farmers. Nine students from the University of Maryland Master of Engineering in Robotics program are participating. The students are divided into three groups: one focuses on Maryland agriculture, another on Maryland aquaculture and a third on innovation in agricultural robotics.
Innovation Group: Harsh Kakashaniya, Prasanna Marudhu Balasubramanian and Charan Karthikeyan, Parthasarathy Vasanthi
Agriculture Group: Tamil Arasu Shamnugam, Nikhil Mehra and Indushekar Singh
Aquaculture Group: Jagadish Nischal Nagireddi, Sarvesh Thakur and Ethan Quist
In the initial stage, the agriculture and aquaculture groups will research current challenges of Maryland farming and have discussions with farmers. The innovation group will focus on the state-of-the-art technologies and the future of robotics in farming. Based on their findings, each group will propose solutions to selected Maryland farming challenges and give a final presentation.
Related Articles:
Miao Yu named Maryland Robotics Center director
Thank you, Lockheed Martin!
Bergbreiter wins Clark School MRI award
IEEE Spectrum website features quadruped microrobot
2010 Maryland Robotics Day draws large crowd
It takes a swarm: These robots talk to each other, make decisions as a group
Maryland Robotics Center students participate in FAA STEM outreach event
These are tiny robots. And they are awesome.
Shneiderman to speak at Arena Civil Dialogue, Aug. 12
GapFlyt helps aerial robots navigate more like birds and insects

September 28, 2018
Prev
Next