Hugh Bruck named UMD Distinguished Scholar-Teacher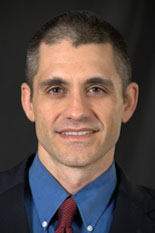 Congratulations to Professor Hugh Bruck (ME), who has been selected as a 2016-2017 Distinguished Scholar-Teacher by the University of Maryland. Bruck is a Maryland Robotics Center faculty member who develops multifunctional skins and compliant structures for robotics. He is a specialist in new techniques for rapid manufacturing and characterization of functionally graded, multifunctional, biologically-inspired, and nanocomposite materials.
The Distinguished Scholar-Teacher program recognizes faculty members who have demonstrated outstanding scholarly achievement along with equally outstanding accomplishments as teachers. Nominees for the award are selected by their peers; the winners are chosen by a panel of former Distinguished Scholar-Teachers. The Scholar-Teachers bring a passion for learning to their colleagues and students, and serve as models of what a professor at a fine research university should be. Winners receive a cash award to support instructional and scholarly activities, and make a public presentation in the fall semester on a topic of scholarly interest.
Related Articles:
Applications now being accepted for summer 2017 bioinspired robotics REU program
What an upgrade!
Students present final projects for 2014 NSF Microrobotics REU
Bruck Named SEM Fellow
Robo Raven III harnesses solar power
Bruck, Smela, Yu receive NSF grant for compliant multifunctional robotic structures
REU in Miniature Robotics holds final project symposium
Robo Raven flies live on Fox 5 TV
Pioneering flight of 'Robo Raven' is major breakthrough for micro air vehicles
Miniature Robotics REU students give final presentations

March 29, 2016
Prev
Next