Derek Paley featured in new NSF research video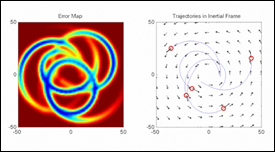 Paley: "We work with differential equations and model the movement of the aircraft in the wind; then we design steering control algorithms using those models which could be subsequently be implemented on the aircraft."
A new National Science Foundation video features ISR-affiliated Assistant Professor Derek Paley's (AE) unmanned aerial vehicle research to help predict the strength of hurricanes.
Paley's Collective Dynamics and Control Laboratory focuses on collective behavior, specifically on how groups of unmanned vehicles can work together to solve problems.
"Our work focuses on how we might use unmanned aircraft to collect observations or measurements of temperature, moisture and wind inside a hurricane to improve the forcasts of a hurricane's strength and give people more time to evacuate if necessary," Paley says.
| View the video on NSF's Science360 website |
Related Articles:
Small collectives and nonlinear dynamics
Derek Paley is AIAA National Capital Section's Engineer of the Year
Derek Paley named Maryland Robotics Center director
Do Good Robotics Symposium to explore technologies that benefit society and the planet
Maryland researchers awarded DARPA cooperative agreement to develop robotic swarm strategies
Derek Paley interviewed for WYPR's 'On the Record'
Paley, Abshire, Martins promoted to full Professor by UMD President Wallace Loh
Paley presents at NAE 2016 Frontiers of Engineering Symposium
Maryland research contributes to Google's AlphaGo AI system
Optimal control and strong interactions imply flock cohesion

October 14, 2011
Prev
Next