IEEE Spectrum features story on jumping robots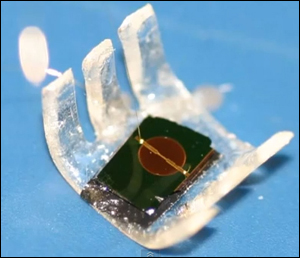 This robot jumps by converting stored chemical energy to gas in a chemical reaction.
There's a nice story about jumping robots being developed in Assistant Professor Sarah Bergbreiter (ME/ISR) on the IEEE Spectrum website. Included is a cool video of the robots jumping.
| Read the story at the IEEE Spectrum website |
Related Articles:
Bergbreiter and students win NTF Award at IROS 2011
New REU site to offer research opportunities in miniature robotics
Sarah Bergbreiter wins NSF CAREER Award
Best paper award for Bergbreiter, St. Pierre, Gosrich at Hilton Head workshop
Sarah Bergbreiter wins ISR Outstanding Faculty Award
Researchers part of two NSF Neural & Cognitive Systems grants worth more than $1.2 million
Maryland part of $253 million federal Advanced Robotics Manufacturing Institute
Applications now being accepted for summer 2017 bioinspired robotics REU program
Ryan St. Pierre named to Future Faculty program
Bergbreiter named director of Maryland Robotics Center

October 3, 2011
Prev
Next